Hardwood floors have a timeless appeal, and they never go out of style. Nonetheless, trends come and go.
The pre-finished, engineered hardwood floors in The Chateau Collection are high-quality and right in line with several current hardwood flooring trends.
Low-sheen finishes
In keeping with European trends, low-sheen floors have become increasingly popular in Wisconsin and across North America. The natural appearance of low-sheen flooring appeals to many, and lower-sheen floors also don't show wear and tear as much as higher-sheen floors, making them a practical option for families with active lifestyles, children, and/or pets.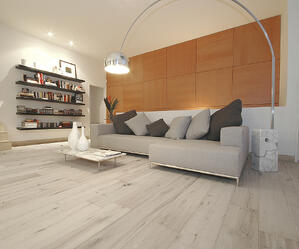 The Chateau Collection has a matte finish, which is the lowest-gloss sheen available. The finish, a hard-wax oil, penetrates deeply into the wood pores to enhance the natural beauty of the wood's grain and color, but the wax remains on the surface as a protective layer with minimal gloss.
White floors
White floors have become a popular choice among homeowners seeking a casual, open feel. The Chateau Collection offers a wide range of color choices, but two of the most sought-after are "Antique White," and "White Oiled."
Very wide boards
Within the past 20 years, tastes have been shifting to hardwood floor planks wider than the 2" boards that used to be the standard. Planks wider than 5" have become very popular, in large part because wider boards create a more relaxed feel than narrower planks.
Many homeowner are even going for planks wider than 7" for a super-casual feel, and The DuChateau Collection features wide-plank flooring that's 7 7/16" wide!
Check Out How Great They Look
If the trends we discussed above are in line with your tastes, The Chateau Collection may be just the hardwood flooring for you. We encourage you to visit our showroom to view samples in person. They really look amazing!
Image courtesy of DuChateau Floors.