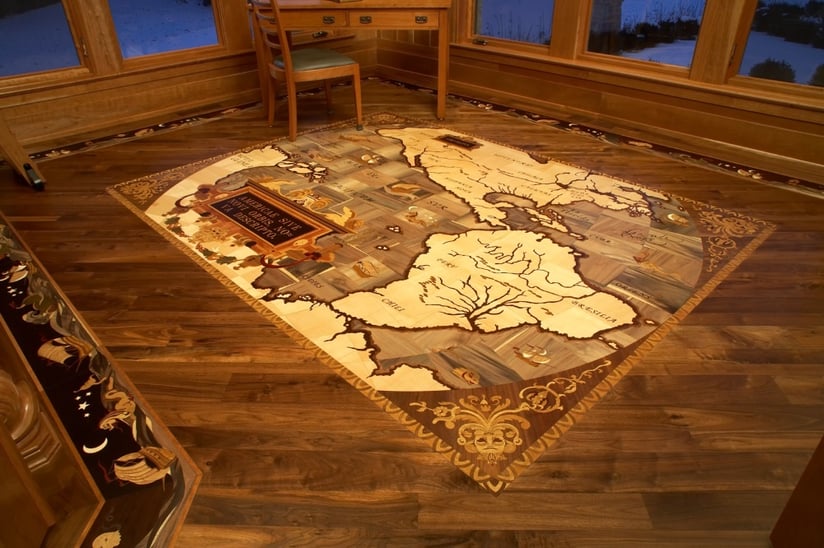 A great way you can accent your hardwood flooring to reflect your tastes and personality is to use hardwood inlay medallions. They add a design flair that commands attention and enhances the visual interest of wood floors.
Whatever your floor style—traditional, contemporary, romantic, art deco, old world, eclectic, etc.—Ralph's has a medallion design to complement your flooring. Medallions can be wood or stone, or they can combine wood, stone, and even metals such as copper. They are typically circular, but they can be any shape, and many homeowners are choosing long medallions.
What all medallions have in common is that they provide innumerable creative possibilities for you to design your dream floor, the floor that makes you personally go "wow."
They aren't about showing off. They are about celebrating who you are.
Some homeowners use their family crest as a medallion. Others choose a design inspired by their personal interests, such as a love of boating or golf. We've even seen medallions created with the design of a favorite sports team!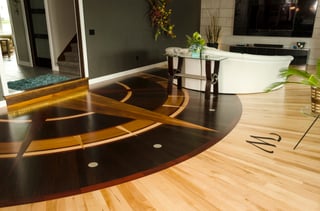 Parquet medallion are a popular choice. So are medallions with a compass theme. Asian-influenced medallions are a recent trend.
Ralph's Hardwoods works closely with Oshkosh Designs, and we proudly use their extensive selection of prefabricated medallions. There are lots of prefabricated choices available to help you create a highly personalized floor.
We also offer our own specialized medallion designs, and we have years of experience working with customers helping to develop their individual custom designs. We can help you accomplish almost any vision for hardwood medallions that you have.
If you can dream it…we can create it.
To see samples of our medallions and talk with us about the possibilities, please visit our showroom.