The idea of dustless sanding sounds like a fantasy but it is real and has real benefits.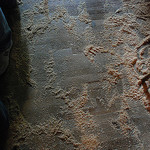 Don't let fear of dust prevent you from reviving a beautiful floor.
Older hardwood floors can reclaim their past glory with a professional sanding treatment. Many homeowners, however, are reluctant to commit to such a project because of the mess and hassle from all the dust generated in the process. Not looking forward to dust in light fixtures, drapes, or inside every cabinet, the dream of reviving those beautiful floors easily becomes abandoned due to the daunting after-project clean up. Keep reading...the solution is here.
Dust can be dangerous.
Even for homeowners who are prepared for the mess, the health risks of breathing in dust should be minimized. OSHA guidelines for wood dust suggest it is "a potential health problem when wood particles from processes such as sanding and cutting become airborne. Breathing these particles may cause allergic respiratory symptoms, mucoul and non-allergic respiratory symptoms, and cancer."
The answer is simple - eliminate the dust before it gets into the air.
Dustless sanding is a highly beneficial option of which many homeowners are not aware. A state-of-the-art Atomic Dust Containment System is a vacuum that continually extracts dust and stores it outside your home in an self-contained unit. Dust is removed as it is created, helping maintain a healthy, breathable environment during and after the sanding process.
Be proactive, save yourself the frustration and preserve your health, and let the Atomic Dust Containment System work hard so you don't have to. Your lungs and your sanity will thank you for it.
Photo by Jazz Guy. Available under the Creative Commons Attribution 2.0 License.