What We Do
Custom Hardwood Flooring ~ Totally Custom ~ Totally You

You've researched multiple internet sites in the pursuit of a hardwood floors to match your vision. You've driven across town to the local to see if there is something that might work. You may have even visited a local flooring store to see their products. Still not sure? We can help.

Give us a call and share your vision with us.

We'll customize a Ralph's Hardwood Floor and bring your vision to life.

Learn More

Prefinished Hardwood Flooring ~ Choices, Choices, and More Choices

Today's consumers have access to hundreds of choices of hardwood floor products, species, color selections and appearance. At Ralph's Hardwood Floors, we offer many choices, yet with one distinct difference. A multitude of choices, unique styles, materials, and finishes, each with their own personality. You will be delighted that you've found what you've been looking for. From oversized planks, soft corks, or a special hand-sculpted appearance.

Ralph's has the choice you've been looking for... it all starts with a visit to our showroom.

Learn More

Refinishing ~ Protect Your Investment

Refinish your floors and discover the possibilities!

Years ago a beautiful hardwood floor was installed and thoroughly enjoyed by everyone invited to your home. Your active family has lived on the floor for a long time and now, as you look upon it, you are thinking your once beautiful hardwood needs a little help. You'll be amazed how we can bring your floor back to life! You will be even more amazed when we show you how you can actually change the floor and give your home a whole new look!

Learn More

A Great Project

Putting Together Your Custom Home Dream Team

Hardwood Floors Are Used to Help Sell Homes

5 Factors That Affect Installation of Finished Wood Flooring

Get Inspired!

Our idea book is full of projects we did for customers just like you.
A Message from the President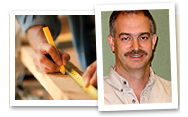 My father, Ralph Lorenz, started Ralph's Hardwood Floors in 1965. He was a man with a passion for creating beautiful hardwood floors, and he passed that passion onto me.
Read the Rest