If you're preparing to install or refinish hardwood floors, you're already taking a major step to beautify your home.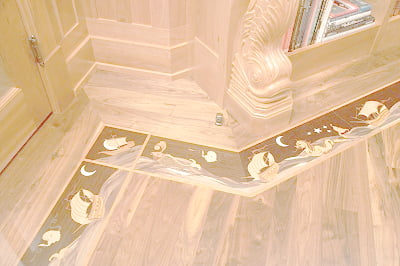 But why stop there? When deciding on finished wood flooring for your home, why not make it really special? Think about some of these suggestions.
1. Consider an exotic wood.
Increase the uniqueness of your floors by choosing a species that will leave a lasting impression. With a wide variety of color and grain, exotic woods create many decorating possibilities, such as complementing an heirloom piece of furniture or a special architectural element present in your home.
2. Explore hardwood floor collections designed to create an atmosphere that perfectly fits your home.
The best hardwood floor professionals povide hardwood floor collections developed through years of creating unique hardwood floors for their customers. Experience and ingenuity are what sets a great company apart from the rest. From rugged and rustic to sleek and contemporary, a variety of collections have been developed, and chances are there is one to suit to your taste. If not, a great custom look could be created just for you.
3. Add borders
Hardwood borders can be as simple as feature strips in doorways and archways, or extremely intricate custom designs framing an entire room. A vast array of hardwood border designs are available to complement your wood floors. Borders have even been used in conjunction with chair railings or as a backsplash to tie the room together and complete the look.
4. Add medallions
Adding a hardwood medallion to your wood floors is like putting your personal signature on it. It is the element that makes your floor uniquely yours. Companies such as Oshkosh Designs and Yarema Marquetry offer an extensive selection of designs. Some installation companies, such as Ralph's Hardwood Floors, also offer their own exclusive design accents.
5. Finish off with the "little touches."
Giving your floors that perfectly finished look can be the difference between a good project and a great one. For example:
Custom staining shoe molding to match your existing trim can be used to cover that tiny gap between the floor and cabinets.
Flush mount wood vents, custom stained to match your floor, virtually "disappear", creating an even and uninterrupted view of your beautiful floors.
Treads and risers perfectly matched to your floor create a beautiful touch. A quality hardwood floor company will offer this service. Tread covers are also available and can be custom stained to match your floor or prefinished. With this system you don't have to disassemble your staircase.
Explore the many possibilities available to add that special touch to your finished hardwood floors. Use your imagination and let your hardwood floor professional help make your dream a reality.