When customers walk into our showroom looking for expert advice on how to get the finished wood flooring they want, we work closely with them to explore their many options. We strive to be a valuable part of a team effort.
But after you make your choice, the ball's in our hands. It's up to us as the installer to turn the beauty you envision into a reality.
That's why we are committed to getting every detail just right. We realize that precise installation is absolutely necessary to attain the full potential beauty of finished wood flooring.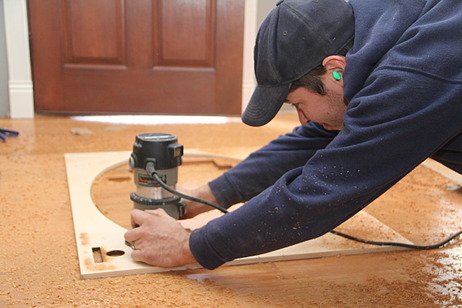 The average experience of our installation crew is more than 15 years, and our company is led by a National Wood Flooring Association Certified Installer. Our installers will dazzle you with their work because they know how to manage the following five critical elements of installing new hardwood floors or refinishing existing ones:

Temperature - Hardwood expands or contracts based on temperature, so installers must be constantly aware of temperature fluctuations. They must understand how temperature affects wood movement and adjust their installation methods accordingly.
Moisture - Likewise, humidity can cause swelling that installers must take into account. Particularly in new homes, humidity levels can be high, so we have been known to help our contractors by loaning them commercial dehumidifiers to keep the moisture at optimum levels for working with the wood.
Species - The reaction to temperature and moisture variations differs between wood species, so it's essential to have knowledge of each species' specific behavior as the temperature and moisture variables change. What applies to one species doesn't necessarily apply to another.
Cut - There's an art to making a cut "just right," and installing finished wood flooring requires an artist's eye for beauty. Through their years of experience, our installers have developed the vision to make the very best cuts.
Coordination with Trades - Installations should be turnkey jobs that you never have to worry about. Our installers coordinate with trade professionals we trust to ensure that installation is minimally disruptive and that the job doesn't suffer delays that negatively affect quality.
So it's not just the wood or finish you chose that will determine how your finished wood floors will look—you also need a superior installer like Ralph's Hardwoods to ensure your floors look as lovely as possible.