I was talking to my 12-year-old daughter the other day, and she had pop quizzes on her mind. She was explaining how she always has to stay on top of her homework because she never knows when the teacher will surprise the class with a pop quiz.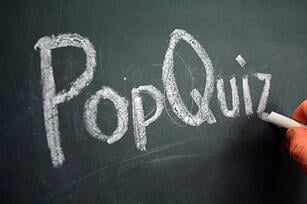 Our conversation made me recall my own feelings about pop quizzes when I was in school. If I knew I hadn't studied for a subject, my heart would drop at the words, "Put away your books; we're having a pop quiz today." But on other days, if I had studied as I should, I was happy for a quiz because it meant I was going to get credit for doing the right thing.
Little did I know that running a business would have a lot of pop-quiz days. Twenty years ago when I took over Ralph's Hardwoods from my father, I was 27 and full of youthful confidence. I thought I had studied enough. I had grown up in the business, helping Dad finish floors. I had helped answer the phone since I was 7. As I got beyond my college days, I would assist customers with quotes or technical questions.
But as it turned out, very little of that experience helped me once I took over, because I had never been the guy who had to make the decision. Dad was always there to make the tough calls.
I remember one of the first pop-quiz days I had. An unhappy customer called in and wanted an immediate answer. I didn't have time to discuss the situation with anyone. The two choices he gave me were not very appealing. I asked to call him back in a few minutes, but he wasn't going to let that happen. So I had to make a decision based solely on the knowledge I already had in my head. Pop-quiz time.
Looking back, I made the right decision, but that moment helped make it clear to me that my studying would never be done. Today, there are still pop-quiz days, but they're easy to handle because I have studied—and people inside our company have studied. Just like back in school on pop-quiz days when I had done my homework, we welcome opportunities to demonstrate our hardwood flooring expertise.
We stay on top of the latest trends, materials, and techniques—always making sure we're installing the best hardwood floors possible. This means most projects go very smoothly, and if any issues do arise, we're usually familiar with them and know how to handle them without any problems. But even in relatively unusual situations, the answers are still not that difficult, because we keep up with our homework.
As a company, we have instilled some very important values. One of the ones that I'm most proud of is being completely responsible. What that means for us is to ask the question, "What more can we do?" before asking what others can do or pointing fingers.
We welcome our responsibility to use our expertise to guide our customers to the hardwood floors they have their hearts set on. We're always ready for the next pop quiz.