Finding a finish system that gives consistently beautiful results is a very valuable thing. Finding a company that can consistently apply that wonderful finish is priceless. Producing amazing results for nearly 50 years is a direct result of an outstanding finish system in the hands of highly-trained individuals.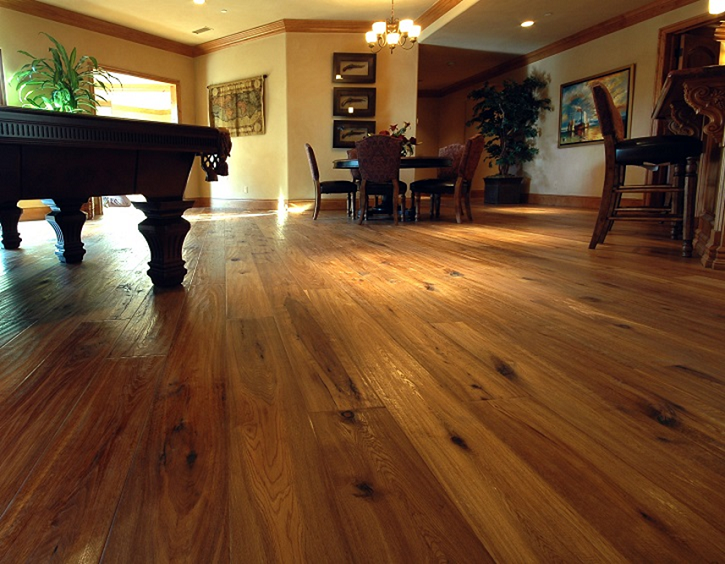 As we evolved, we realized that one finish will never be right for everyone. The needs and desires of our clients are as varied as they can be. To some clients durability is most important, while vibrant color is what someone else is looking for. Let's not discount those desiring to leave a lighter carbon footprint. This is becoming increasingly important to many of our clients. Although one finish will never meet the needs of all of our clients, we feel confident we can help you choose the one that is just right for your home and family. Through thoughtful exploration, we can help you hone in on one that will fit your situation. A visit to our showroom is a great place to explore your options.
Did you know that simply living in a sandy area may be a significant factor in which finish you choose? Which finish works best on oak, stained maple, Brazilian cherry, or antique heart pine? Only years and years of experience can teach this.
The application of the right finish to achieve a specific look is very important, as is choosing a finish that will wear well. Other finishes we offer are polyurethane, water-base urethane, Moisture Cure, and a variety of oil finishes. We also offer many options for customers preferring low VOC finishes. Let us help you choose the right finish for your project and your family.