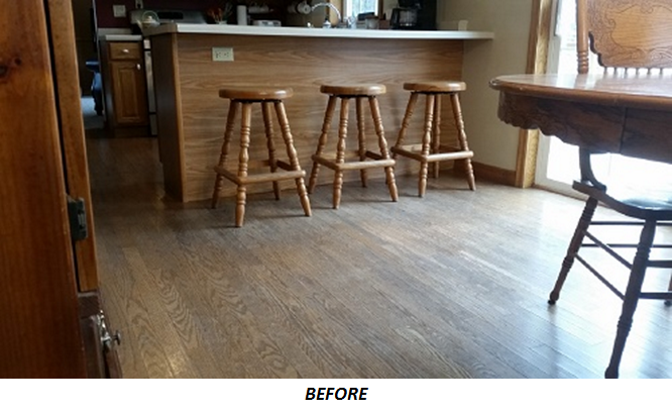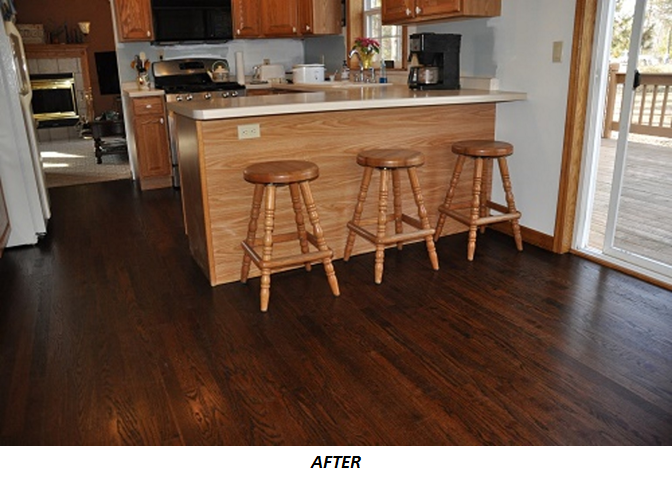 In February, Ralph's Hardwood Floors announced the winner of our "Ugliest Floor" contest on Facebook.
Now the winner, Sara Dorn-McGuire, and her family are enjoying her prize—a free refinishing of her hardwood floors. More than 1,900 people chose her flooring as the most in need of refinishing among the many entries we received. We recently completed the job—338 square feet in her kitchen, dining room, hallway, and foyer.
Sara was aware of our reputation for quality, but as with most of our customers, she was delightfully surprised at how great her floors now look. After we refinished them with our experienced, craftsman's touch, they went from being floors that bothered her to floors that give her pleasure every day and that she's now proud to show off.
"They turned out better than I ever imagined," she told us. "I'm very happy with them. People who have stopped by say, "Wow, they really look great!"
Sara was also happy to find that dust wasn't a problem. Using our state-of-the-art Dust Containment System, we were able to extract the dust directly from our sanding machines outside Sara's home.
"You left everything very clean," Sara said. "You were great to work with."
The Ugliest Floor contest was part of our year-long celebration of our 50th year in business. Since 1965, we've been providing homeowners across northeast Wisconsin with the same high level of satisfaction that Sara has with her beautiful new floors.
If you'd like to keep up with Ralph's as we announce other exciting events and specials during our 50th anniversary celebration, please visit our Facebook page and give us a like.
If you're ready to give your old, beat-up hardwood floors a makeover—or you want to install brand-new hardwood flooring—please get in touch with us. Even if you're just thinking about it, we can provide you with useful advice.