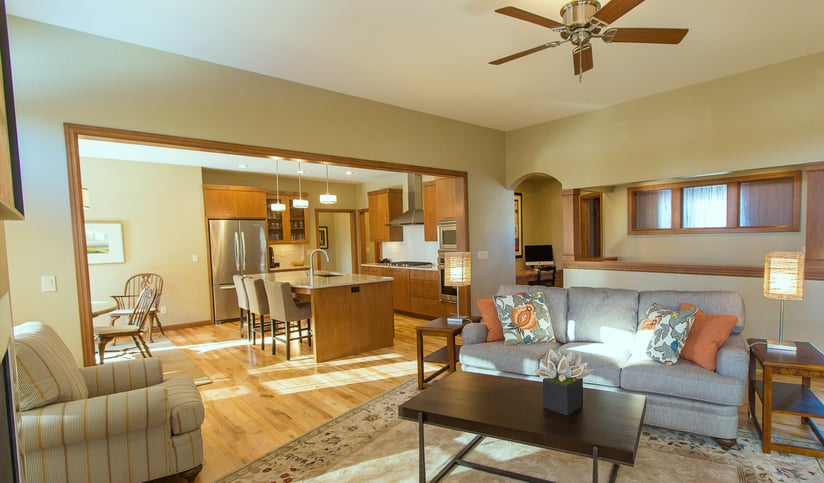 More and more new homes being built these days feature open floorplans, and homeowners across the world are knocking down walls to create open floorplans as they renovate older homes.
This global trend has clearly taken hold here in Wisconsin. Many of our customers building new homes or renovating want an open floorplan. That means the living room, dining room, and kitchen aren't separated by walls—in other words, a kitchen that's open to a "great room."
This popularity of open home designs is driven by several factors:
Sociability. The lack of walls encourages conversation and interaction, which appeals to today's busy, active families who like to spend time together when they're all at home, as well as to homeowners who like to entertain.
The decline of formal dinner parties. Formal dinner parties just aren't as common as they used to be, so there's no need for a separate dining room.
A connection to nature. Open floor plans allow natural light to spread throughout the home, and the lack of walls allows everyone to see particularly beautiful outside views that would otherwise be visible from only one room.
Spaciousness. Leaving out the walls obviously creates a larger open space than if the area was divided. In many people's eyes, this makes an entire home seem more spacious.
When it comes to hardwood floors, homeowners who choose open floorplans usually reinforce the roomy, flowing feel by selecting the same type of hardwood flooring for the entire area. Instead of creating some distinction between the areas by using a different style of flooring or decorative borders, they go for a uniform look that unites the whole space.
In general, that's what we recommend to our customers who want an open floorplan. That's not to say there aren't creative possibilities in mixing things up—for example, by staining the floor in the kitchen a different color. But for most people seeking an open look, uniform hardwood flooring gives them the appearance they want. Furnishings, rugs, and the kitchen counters/bar are enough to define the areas of the open space for them.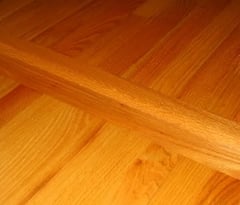 If you do want some distinction between the flooring in rooms, but want to keep an open, flowing atmosphere, you can use a simple hardwood crosspiece, which creates a subtle transition.
Light-colored flooring (maybe even whitewashed) lends itself well to the natural, airy feel of open floorplans. Wide plank hardwood floors are also a good match.
Any grade of wood can look great, but lower grades that show natural characteristics often appeal to homeowners who like open floorplans because both choices work together to create a causal, inviting feel.
Please visit our showroom to learn more about how hardwood flooring can enhance an open floorplan in your home. Or give us a call at 920.984.3383 or 800.354.9902, and we'll talk about the possibilities.