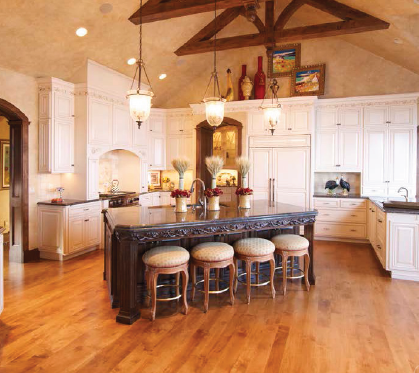 It wasn't so many years ago that I used to steer customers away from engineered hardwood flooring. They would visit our showroom and want to know about engineered flooring, and I'd politely explain that it just wasn't as good a choice as solid plank flooring—except in cases where engineered flooring was the only option because of moisture considerations.
That's not what I say anymore.
Homeowners can now find engineered flooring that will look great and last long enough for us to recommend it. Solid plank flooring is still the most popular option among our customers, but more and more homeowners are choosing engineered flooring, even when they don't have to … and even when they are having custom hardwood floors installed.
Unlike solid plank flooring, in which each board is milled from a single piece of timber, engineered hardwood flooring is constructed from layers of plywood, fiberboard, scrap hardwood, or less-expensive hardwood from fast-growing species—and then a top layer of finished hardwood (the lamella) is adhered for appearance and protection.
The advantage of this engineered structure is that it provides more stability than solid plank flooring, which is why engineered flooring is usually the only option in areas with high moisture, such as basements or rooms with radiant heat.
The problem for years was that the majority of the engineered flooring on the market was made with a lamella that was so thin that it couldn't be re-sanded more than once or twice, if it all—unlike solid plank flooring, which can repeatedly be sanded to refurbish the floor. That meant that engineered flooring wasn't going to last nearly as long as solid plank flooring before it would have to be torn out and new flooring installed.
Most engineered flooring was essentially being made as cheaply as possible and sold as a less-expensive option than solid plank flooring.
You can still find that type of engineered flooring in stores today. But you won't find it at Ralph's!
Engineered flooring manufacturers have realized there's a demand for the stability of engineered flooring, even among homeowners looking for top-quality floors. And so they've started producing engineered flooring that has a thicker lamella. They've also started offering a much wider array of species, cuts, colors, etc., making it possible to create beautiful and unique custom designs using engineered wood.
Engineered wood can be finished on site—which we often do—but today there are many beautiful prefinished products available, as well.
Don't misunderstand me. Solid plank flooring isn't being replaced by engineered flooring! But with the advances in engineered flooring quality over the years, we can now comfortably tell our customers that engineered flooring is a great option.
To view our selection of high-quality engineered flooring, please visit our showroom. To learn more about the technical details of engineered flooring, read our recent blog.