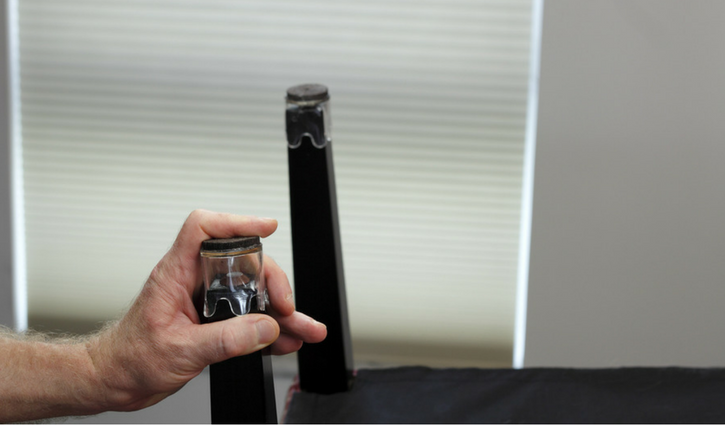 New hardwood flooring is a beautiful investment that can give your home a completely fresh look. Of course, making sure that your new floors are protected is the next logical step. There's a variety of floor protectors for furniture to choose from, starting with felt pads to mountable rolling casters and entrance mats. Whichever protectors you want, you should be aware that you still have to install them correctly. Let's have a look at some floor protector options and how to use them.
Felt Pads
Felt pads come in a few varieties and different sizes: self-adhesive, tap-in felt glides, etc. Once installed on your furniture, they enable you to move it across your hardwood floor without damaging it. We recommend tap-in floor glides They should go on anything that is going to moved frequently such as dining room chairs and tables. Stick on glides can go under items that may be moved less frequence such as a sofa table or hutch. If you do not have a wood base, you should use the stick on glides but check them often as there is a tendency for those to come off. Make sure to check the felt pads often and clean them if they're dirty. If you notice they've gotten damaged, replace them before the damage causes scuffs on the flooring.
Entrance Mats
While entrance mats aren't usually for furniture, they're still essential floor protectors. A large percentage of all the dirt and debris gets into your home on the soles of your shoes. An entrance mat works non-stop on preventing dirt from entering your home and scratching your floors. That will minimize tracking of dust and water, so you won't have to clean your floors so often. They're the first line of defense of your hardwood floors.
Cup-Shaped Protectors
Cup-shaped protectors are usually plastic or rubber. They're similar to rubber grippers in the sense that they're also not used for furniture that's frequently moved. They're better for heavy stationary objects. You can install them by placing them on the floor and resting the furniture legs on top. Cup-shaped protectors provide excellent weight distribution which decreases the likelihood that heavy furniture will damage the flooring.
Cloth Gliders
Your hardwood floors are supposed to last for a long time, but they won't if you don't take care of them. Furniture protectors can help you with that — and here at Ralph's Hardwood Floors, we can help you with flooring. Come to visit our showroom for more information.