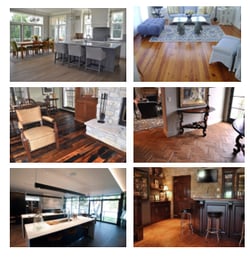 The "look" of hardwood flooring is something that's hard to put a finger on. That's because it depends on who's doing the looking.
If you're deciding on hardwood floors for your home, trust your personal taste. If you want a casual look, for example, rely on your judgment about what looks casual and relaxing to you—not on what a magazine or website calls "casual."
Nonetheless, despite the personal nature of how a floor looks, there are certain "looks" that can be defined. While the exact color, grain, sheen, etc. can vary somewhat, these looks are created using a combination of characteristics known to produce a specific style.
In a recent blog series, we focused on some of the most popular of these looks.
English Pub. You can enjoy the cozy warmth of an English Pub without having to leave home. Many homeowners are choosing this look for their basements.
Urban. Aging industrial properties are being converted into homes, and the right hardwood floors help maintain the character of these urban spaces.
Victorian. If you want to recreate the refinement of the Victorian era in your own home, you need elegant hardwood floors. Parquet borders are often used to enhance this look.
Rustic Cabin. Because hardwood flooring is a natural product made from trees, it harmonizes beautifully with the natural surroundings around a home in the woods—particularly if the flooring looks like it belongs in an old cabin.
French Country. Light, naturally colored hardwood floors help create the open, airy look of a home in the French countryside.
Beach House. Many people with homes near water want flooring with an informal, care-free look that puts people at ease.
Ralph's can help you create these styles, and many others—always keeping in mind that what really matters is how it looks to you.
I invite you to visit our showroom. We'll help you get just the look you want!