When my dad, Ralph Lorenz, started Ralph's Hardwood Floors in 1965, he was setting out on his own after learning the trade at another local hardwood floor company.
But "on his own" doesn't mean he had no help.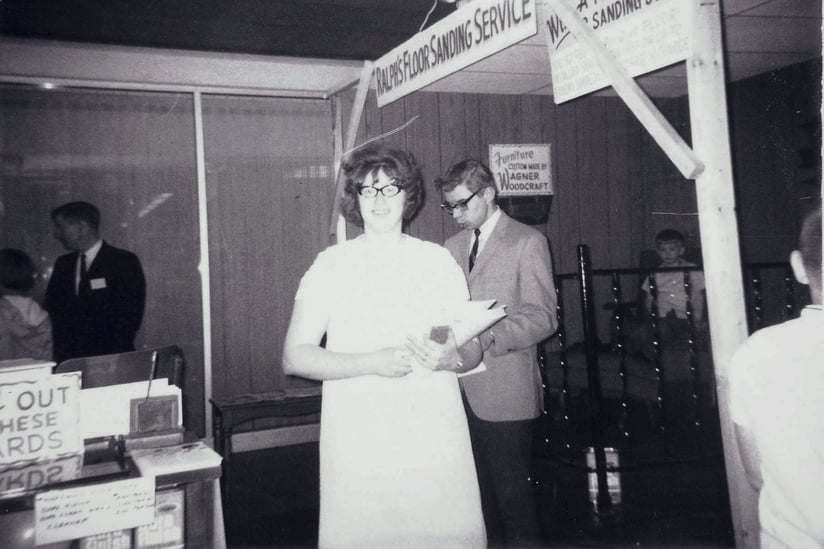 My mom, Roberta, was always lending a hand—answering the Ralph's phone line in our home, helping Dad with non-technical aspects of installation, handling the accounting, forming bonds with our customers, and doing anything else that needed doing. She was essentially Ralph's office manager … and much more.
I was born the year Dad started Ralph's, and it wasn't long before I was helping out, too. Some of my earliest memories are of working with Dad. At first, it was little stuff, but as I grew up, Dad began teaching me the hardwood floor craft.
In the early days of Ralph's, Dad also got help from family members from outside of our home—but not from far away! My uncle, Gene Blake, was a farmer who lived across the street and he began helping Dad with jobs when Uncle Gene's work was slow and Dad's was busy. He also let us put a phone in his house, which he or my Aunt Dolores would answer when Mom or Dad didn't pick up the Ralph's line in our home.
Gene still live across the street from the house I grew up. And I see their son, Al, all the time. That's because he's Ralph's longest-tenured employee. He joined us in 1986 as an installer, and he's never seen a reason to leave. Now Al's son, Reed, is helping us in the summer. The family tradition continues!
We have about 40 team members now, but I think the "family" feel of the company remains. That's how we started, and that's how we carry on—like a family pulling together.
We've made countless hires over the years. Some work out; some don't. But those that do tend to stay with us for the long run. We want employees who are honest, nice, clean cut, hard-working, physically fit, mechanically oriented, eager to learn, and eager to please customers. We want people who we'd be glad to welcome into our family.
If you—or someone you know—has what we're looking for, let us know. Joining the Ralph's family could be a life-changing opportunity.