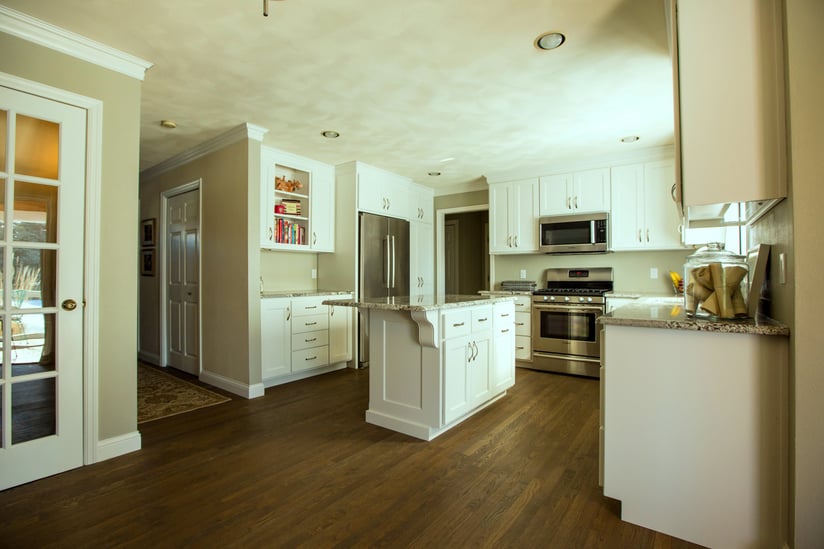 Kitchens are a great place for hardwood flooring. They're also a perfect opportunity to use hardwood floors in conjunction with other interior design elements to create a look that's more than the "sum of the parts."
Kitchen cabinets are usually the most important part of achieving this enhanced appearance. The way in which they complement the flooring can establish the entire feel of the kitchen, and a good pairing can elevate the room's beauty and unite all its features.
The traditional thinking about how to pair kitchen cabinets and hardwood floors has been to make the cabinets a shade lighter, with a similar grain pattern in the cabinet and floor. There were a lot of kitchens with dark cabinets and dark flooring!
Likewise, we saw homeowners going for a casual, "breezy" look stick to light tones in both the flooring and cabinetry.
But tastes have changed, and homeowners are being more creative than ever in using kitchen cabinets with hardwood floors. It's now stylish to use cabinets in a way that complements the flooring but doesn't "match" it in the traditional sense.
So we're seeing a lot of contrasting tones, often created using paint on the cabinets. Dark cabinets and light flooring (or vice versa) have become very popular. Bright, vivid colors are sometimes used on the cabinets. And matching the wood species of the flooring and the cabinets is certainly not a priority for most people.
Sure, we still get people looking to match design elements—such as installing cabinets with an antique look to match reclaimed hardwood flooring. And there's absolutely nothing wrong with the traditional idea of matching the cabinetry colors with that of the flooring. It's all a matter of taste
But whatever that taste is, the cabinets in the kitchen will play a major role in displaying it. They're a lifelong partner with the flooring in creating the look you're after.
We're happy to talk with you about how the hardwood flooring in your kitchen will relate to the cabinetry. Please stop by our showroom or give us a call at 920.984.3383 or 800.354.9902 to schedule an appointment or start a conversation.