Luxury vinyl tile is the new star in the flooring world.
Ralph's has recently started offering this flooring option, and the interest among customers has been even stronger than we expected. There's a reason for that—luxury vinyl tile is a great product.
The first reaction most people have when they see it for this first time is: "That's not wood?! It surely can't be tile."
But it is. Vinyl tile has come a long way since the heyday of sheet laminate tile. Sheet vinyl made to look like wood was rare, and when you did see it, it had a distinct inauthenticity because the repetition of the sheets created an unnatural look. There wasn't enough variation in grain, knotholes, color, and other natural wood characteristics.
Advances in the quality of vinyl printing—with ultra high-definition photography— are enabling manufacturers to now print tile that really looks like wood (or stone). People with untrained eyes have to get down close and touch the tile to distinguish it from the real thing.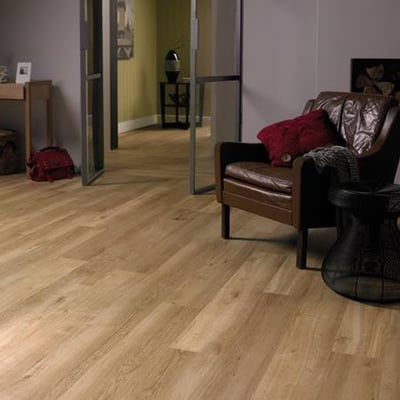 Increased variety is also leading to vinyl tile's surge in popularity. Companies such as Karndean offer luxury vinyl in individual board-plank-size tiles in a range of styles, colors, and sizes. You can choose tiles with fixed widths and lengths, or go with random widths and lengths, like real wood.
You can even get tiles for special design features, such as borders or medallions.
With more variety in vinyl tile than ever, homeowners can choose flooring that reflects their unique style and vision. And because small tiles are used instead of entire sheets, installers can use their experience to enhance the natural wood appearance.
But homeowners can get real hardwood floors for prices comparable to luxury vinyl tile. So why not go with real wood, even considering the greatly improved quality of vinyl tile?
The Benefits
Many homeowners choose to install luxury vinyl tile because, unlike wood, it's waterproof and not affected by humidity. That means it is ideal for bathrooms, kitchens, laundry rooms, bathhouses, or any other room or area that is likely to see a lot of humidity and moisture on the floor.
Vinyl tile's humidity insensitivity is particularly appealing for vacation homes, which often experience wide humidity fluctuations related to seasonal changes and whether they're being used. The owners don't have to worry about vinyl tile cupping or gapping due to any humidity changes.
Generally speaking, when a customer is interested in installing hardwood floors in a space that will experience a lot of moisture and/or humidity swings, we're advising against that and recommending luxury vinyl tile instead. That's how happy and confident we are with the best luxury vinyl tile that's now available, which is what we sell.
You may think it's odd for a hardwood floor company to advocate the use of a type of flooring other than wood. Many visitors to our showroom don't even realize we carry luxury vinyl tile. They come looking for wood, because after all, we are Ralph's Hardwood Floors.
But we're not just a hardwood company. "Floors" is also in our name. Besides, we think of ourselves above all as a customer-satisfaction company, and for many of our customers, luxury vinyl tile is the choice that will give them the greatest satisfaction. We're pleased to offer that option.
Image courtesy of Karndean.