As I entered adulthood, I wasn't sure I was going to get into my father's business of hardwood flooring. I had worked there for Dad growing up, but now I thought I might want something else. Eventually, though, I returned to my family and business roots. I'm very pleased that my long-time friend, Mark Triggiano, has been along for the journey. Below Mark explains his motivation. — Rod Lorenz, President, Ralph's Hardwood Floors
When Rod and I were roommates at the University of Wisconsin Oshkosh, we used to joke about Rod taking over his father's business and hiring me.
It seemed unlikely. The business, Ralph's Hardwood Floors—although successful and highly respected—was basically a "mom & pop shop," and Rod was studying computing, not hardwood floors. I was studying business marketing, not necessarily looking to work for a small company.
But sure enough, Rod did take over Ralph's, after a stint working with computers. And 26 years ago, I did start working here in sales, as a young salesman with a business marketing major and a few years' selling experience.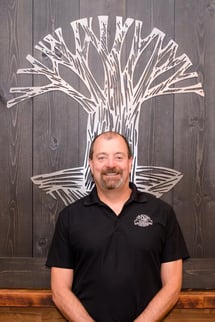 Things were much simpler then, and stylistic choices were relatively few compared to now, when our customers have thousands of selections among hardwood floor characteristics.
In those days, only a few people worked here, and we all wore somewhat different hats. Now more than 40 people make their living at Ralph's, and they each have essentially specialized roles. (Ralph's has created a lot of opportunities for people in the Black Creek area!)
Ralph—our founder and Rod's Dad—was still here when I started in 1993. He was a great storyteller, but he certainly wasn't goofing off. Despite always being a step ahead in the work, he was patient and made me feel like a part of the family even as I was learning.
Gladly, that family feeling remains, and I think that's one of the keys to our success. If you enjoy the people you work with and you love satisfying customers, work is more fun and more important to get right—and your customers benefit from that enthusiastic service.
As a salesperson, a typical day for me begins a little before 7 am. I could come in a little later, but the crews get there that early, and I need to talk with them to go over any project hiccups or homeowner concerns.
A large part of my job is working with homeowners before installation or refinishing begins, to help them get the floors they're dreaming of. I listen to what they want out of their project—and what their worries are. I absolutely don't want to steer them wrong.
Like any long-term member of the Ralph's team, I enjoy working with people. I'm genuinely happy and excited to help with such a prominent aspect of our customers' lives.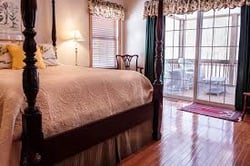 I advise them as best I can (based on my knowledge and years of experience), never hard selling. I'm not a false smile looking for a quick deal. I don't get impatient with customers. And if there's an issue with something we've agreed to, I'll remedy it.
If the homeowner isn't happy; I'm not happy—and neither is Rod or anyone else who works at Ralph's. For us, our job is much more than selling to customers. It's servicing customers with excellence.
As much as things have changed; they've stayed the same. We still insist on quality and we still feel like a family. Ralph's doesn't seem like a corporation to me. It feels like home!
— Mark Triggiano, Ralph's Hardwood Floors