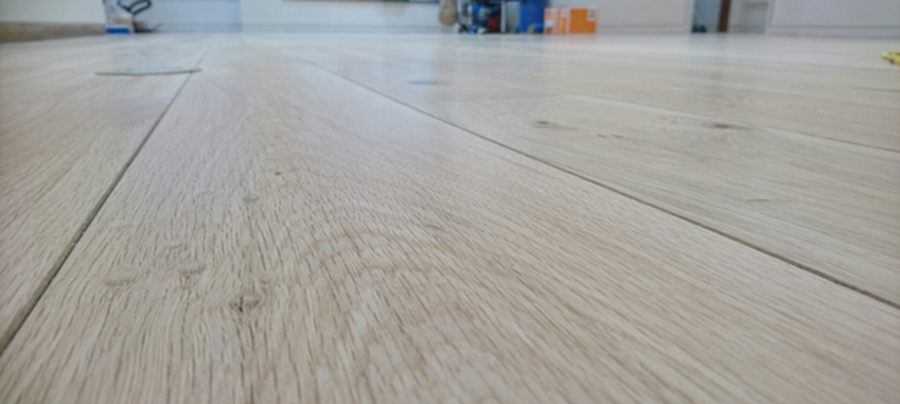 Sometimes, while in the middle of a project, a client will call and say, "Hey, Rod, you know, I absolutely love the way the floor looks right now. I really like that raw wood look. Is there any way we can keep the floors the way they are unfinished?"
That natural unfinished look and feel of raw wood just resonates with them. Although we empathize and often agree that there is immense beauty in the natural look, we know that unprotected wood flooring can't stand the test of time.
For the past 50 years, our answer has always been that we just couldn't do it. Putting down a sealer will make a floor look more amber. Even trying a white stain makes the grain of the wood look different. Thankfully, we no longer have to say "no" to our customers. Over the past few years, the flooring industry has come out with some new innovative coating technology like Loba's 2K Invisible Protect A.T.
Everything about these products is what homeowners and business owners alike are looking for:
Extremely low sheen

Natural oil look

Anti-slip

Applied over any stain.
When working with interior designers, they love the low sheen that this coating provides. According to our design friends, "a low-sheen finish allows the wood to be the central focus. If you want to emphasize the color and warmth of the wood, a low-sheen finish is a great choice.Each type of wood has unique characteristics and grain patterns, and choosing a low-sheen finish allows these characteristics to become more apparent and truly showcase the beauty of the wood.
"If you are looking for modern hardwood floors that offers more character and a natural wood look, you have to use a low sheen finish."
In addition, the low sheen on wood floors will show far fewer scratches and dings than high-gloss floors, so watching pet paws and soccer cleats scuttle across the room won't make you worry so much—or have to refinish so frequently.
We've even gone as far as applying this product to cherry wood to help reduce the amount of red that comes through with stains and sealers.
Every customer we have is unique and so are their needs. There are so many different styles of homes and ways to make your hardwood floors stand out. Our goal has always been and will always be to help bring a floor into your home that shows off the beauty and care you put it to it.
Let us help you create a stunning floor in your home that will be the envy of the neighborhood. Stop by our showroom today or give us a call to book your appointment.