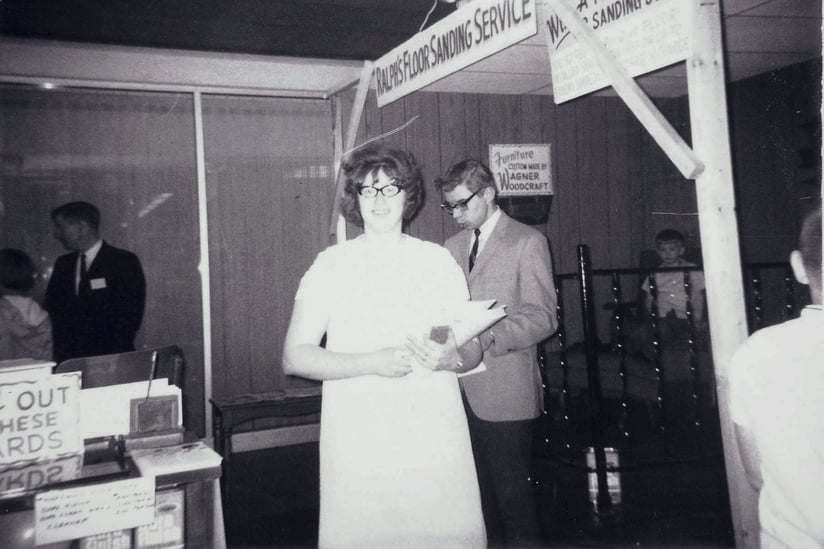 Pictured from left to right are Roberta Lorenz(back to picture), Ralph Lorenz, Barb Strauch, Jim Strauch, Rod Lorenz (sitting in back), and unknown.
When my father, Ralph Lorenz, started Ralph's Hardwood Floors 52 years ago, the first person he hired was a man named Jim Strauch.
Jim was no stranger. He and Dad had both worked for a local hardwood floor company, and they frequently worked jobs together. Jim, who had more experience, helped Dad learn the hardwood-floor craft.
The two weren't just colleagues; they were buddies, and when Dad set out on his own, Jim joined him.
"We were a team. It's tough to break up a team," Jim said.
Jim also had a feeling Dad would find success, and he wanted to be a part of it. Jim recognized that although Dad could come across as all-work, he had a personable side to him that ingratiated him with contractors, who provided a lot of our early business.
"He was great with relationships, and that was important," Jim said.
And Jim could see that Dad had an entrepreneurial knack.
"He meant business; he meant business all the way." Jim said. "He was a great business guy, and he had to be to be on his own."
Jim also realized that Dad something else going for him—the valuable and vital support of Mom (Roberta Lorenz), who pitched in on the business side (and sometimes on the job) and had a winning way with customers.
"If you can't get along with her, you can't get along with anybody," Jim said. "She was a very important part of the business."
It's been years since Jim worked at Ralph's, but he is still fondly remembered as someone who set the standard for future members of our team.
"We were going to get the job done, and we were going to do a good job," Jim said about his and Dad's attitude during those early days.
That's the same attitude we still have, and—even though we've grown to around 40 team members and have more-pressing hiring needs than ever—we insist on hiring people who share in that attitude.
If you love to please customers and don't mind working hard, as part of a team, then you're probably a great candidate to follow in Jim's footsteps. It doesn't matter if you know hardwood floors. As long as you're reasonably mechanically inclined, we can teach you the technical skills of hardwood floor installation and refinishing. A" Jim-like" approach to work is what we're looking for, above all.
It's a two-way street. In return for hard work, dedication, and trustworthiness, we do everything within our power to treat our team members just as Dad treated Jim—making Ralph's a rewarding and fun place to work.
"I had good times with him." Jim recalled. "He was a great guy to work with, and he treated me good."
As evidenced by our many long-time employees, Ralph's is a place where you can build a career. If you—or someone you know—may be interested in becoming part of the Ralph's team, you can learn more and apply here.