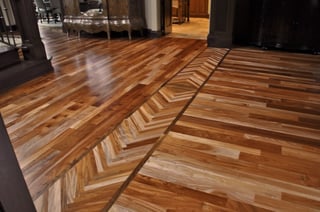 If you want to add a little extra visual excitement to your hardwood flooring, borders might be just what you're looking for.
Hardwood floor borders can be simple or elaborate, or anywhere in between. But even the simplest border can have a great effect.
Hardwood floor borders typically are used to highlight a particular section of a room, such as a living area in a great room, the space near a fireplace, or around a dining room table. The border frames the area you want to highlight.
You can even use borders to frame an entire room, such as a foyer or kitchen.
Hardwood floor borders are also very effective in helping to transition between rooms or areas with non-matching flooring. The border clearly separates the differing styles and makes it clear that a match wasn't intended.
The simplest borders are created by applying a different color of stain to the same type of wood used for the rest of the flooring. Usually, the border is stained darker, but it can be stained lighter if that's a look that appeals to you.
The most common way that borders are created is by using a different species of wood for the border than that used for rest of the flooring. This creates a natural contrast in color, grain, texture, etc. that makes the border stand out. Using more than one differing species inside the border adds even more visual interest.
Another way to emphasize the borders is to lay the wood inside the border in a different direction than the rest of the flooring (e.g., at a diagonal angle).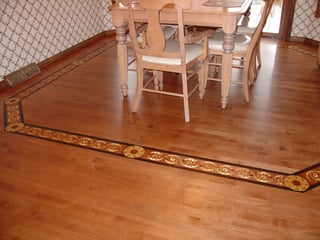 The most-elaborate borders feature intricate patterns such as parquet, made from inlaid wood. A century ago, this would have required many, many hours of work by a skilled and highly compensated artisan. However, these days, with modern laser-cutting technology, these patterned borders can be created off-site at a reasonable price.
For example, a manufacturer we trust and recommend, Oshkosh Designs, offers a wide selection of beautifully patterned borders that we've installed in many homes.
That doesn't mean that skilled craftsmanship isn't required! Even with laser cutting, the manufacturer still has to lay the pieces down by hand to create the pattern. And once onsite, the boards for the border should be installed by installers intimately familiar with creating borders, like we have at Ralph's.
With any border installation, from the simplest to the most-complex, the installers must be skilled enough to do the precise measuring and centering required, and they must be willing to take the time to do it right.
Want to talk about borders for your hardwood flooring? We'll be glad to share our experience and advice with you. Just visit our showroom or call 920.984.3383 or 800.354.9902.