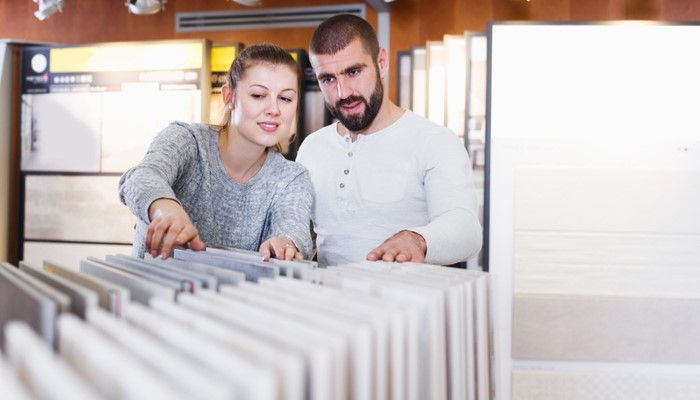 It can be a long path from the customer's consideration stage to the decision to purchase. Choosing the flooring that is supposed to last you for many years is a big decision. It's only natural to take your time considering your options.
Nowadays, customers have more hardwood floor options than ever— solid plank, engineered, finished on site, prefinished, etc. There are also choices about type of wood, color, texture, and much more.
You could to a big-box home-improvement store or to a chain hardwood flooring company. However, there is a significant difference between those options and buying from a company whose business model is based on customer satisfaction. We believe a good product and excellent customer service will sell themselves.
Our salespeople are trained not to "sell" like a big-box store would. They act as consultants to get you just the right hardwood floor for your lifestyle and taste.
Personal Service and Consultation
Customer service plays a huge part in the customer's ultimate decision and level of satisfaction. Marketers and salespeople know that it often directly influences whether the customer will do business with them again. However, big companies often find it challenging to stay customer-centric, especially in the flooring business.
The main reason for this is that personal service and expert consultation take time. Personnel in a big-box store often don't have enough time to sufficiently serve each customer or provide specialist consultation for everyone. They become more focused on making a sale than ensuring that customers get the floors of their dreams.
The better option is to work with a well-regarded locally owned company (like Ralph's) that focuses solely on flooring. At Ralph's, you'll be served by real experts who get excited about making customers super-pleased.
Our business model is to provide excellence at ever stage of a hardwood floor project. It gives us great satisfaction, and it leads to a lot of word-mouth business. No one works at Ralph's for long if they don't enjoy helping our customers get just the look they're after.
What Is Your Dream Floor?
It can be quite tricky to find the flooring you're looking for in a big-box or other chain store selling flooring, especially if you want a custom look. Your options will be limited. And you might be given advice that leads to the best deal for them, but not you.
A flooring expert's first question will almost always relate to the concept of your dream floor. From there, they can answer questions and make suggestions to help you get both what you want and what you need.
For example, if a homeowner wants a soft kind of wood based on its appearance but has an army of kids and pets at home, an expert could suggest how to get that appearance with more durable hardwood. Ensuring customer delight is always the priority.
We put customer happiness first. Visit our showroom to see what we can offer!