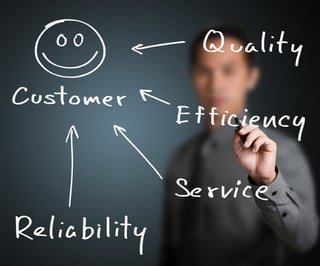 There's a tendency for customers to think of "customer service" as something that's in addition to the product or service they're paying for.
In this way of looking at it, customer service is a bonus. If customer service is lacking, customers will usually complain, but they also often separate that dissatisfaction from their opinion of the product or service itself.
That's why you might hear a comment like: "The clerks in that store are such jerks, but they have the best clothes in town."
That's not the way we look at it at Ralph's. For us, "customer service" isn't just a bonus. It's how we make sure the products and services we provide are in fact the best around.
We pride ourselves on providing customers with the most-enjoyable and stress-free experience possible during installation or refinishing, and you won't find any friendlier people to work with. But our commitment to serving customers isn't just about earning short-term appreciation. It's also about doing everything possible to keep customers delighted years down the road, still in love with their floors.
That means that we take the time to understand what customers are dreaming about. After all, "quality" in hardwood flooring is largely a matter of personal opinion. Of course, there are differences in the quality of materials, but the best materials don't guarantee a floor that's going to satisfy a customer. To truly provide a high-quality product, we have to care how our customers define "quality"—and that's exactly what we do.
(Think about the clerk in the store with the great clothes. Are they just recommending what the store wants you to buy, or are they genuinely trying to learn your tastes and budget so you'll make the purchase that will make you the happiest?)
Our approach to customer service also means that we take the time to get the installation or refinishing just right, even if the customer would never notice if we took shortcuts. "That looks great; you guys did a wonderful job" isn't good enough for us if we know that we provided the customer with less than 100 percent of our skill and effort. For us, every job is not just an opportunity to please customers; it's a chance to blow them away by putting in floors that are more beautiful than they ever imagined they could be.
There's also the behind-the-scenes work we do on behalf of customers, such as helping them find the best value in material, or working with contractors to get floors in on time despite a tight schedule. We think of our customer's flooring projects as if they were our own.
As you can see, there's a lot more to our concept of customer service than simply being polite and personable. We are both of those things, but we believe that true customer service goes even deeper. Our view is that customer service, when done right, should result in a more valuable purchase for the customer.