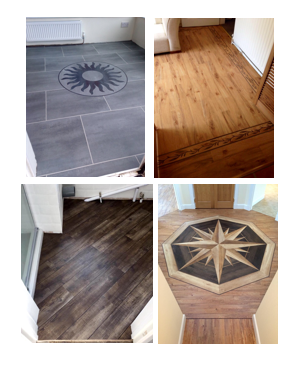 Hardwood is what we do best at Ralph`s and most of the time it is the flooring we recommend. That being said there are areas of the home where the incorporation of natural wood is a no-go even when they support the natural timeless beauty of natural hardwood. In some below grade rooms or high-moisture areas and such as bathrooms or pool cabanas hardwood flooring is not the best fit.
Luckily we have some wood-look alternatives that we recommend that make it possible get the function required and to achieve the stylish appearance of hardwood. Our two current favorite faux-wood floors are luxury vinyl and porcelain tile. Both options provide durable surfaces against moisture and can look great when properly installed.
Luxury Vinyl
Recently improved printing and embossing techniques means we are seeing more vinyl with surfaces that look and feel more authentic than ever. Durable and low maintenance, luxury vinyl can be made to look like a variety of species and textures in several colors.
Vinyl comes in a variety of formats including sheets (6- or 12-foot-wide rolls), tiles and planks. Vinyl tiles are easy to install and can be laid in any orientation, from checkerboard to diagonal, replicating the look of ceramic or stone. Vinyl planks are designed to closely resemble hardwood and even come in the same size as wood planks, and feature the most realistic features such as texturing and beveled edges.
Porcelain Tile
Similar to vinyl planks, wood-look porcelain tiles come in the same sizes as hardwood planks and looks like wood right down to the grain and texture. We commonly hear that well-chosen porcelain tiles look so realistic guests are surprised to hear the floor is tile!
Not unlike Luxury Vinyl, specialized scanners, graphics, and printers are helping to produce many realistic and beautiful wood looks in a durable tile. The nuances in color and grain provide design flexibility because they mirror the color and patterns of real hardwood meaning you are likely to find one that fits your personal wants and needs and even to closely coordinate with natural hardwood in other parts of the home.
Wood-look alternatives can add a look of elegance, old-world charm, modern trendiness, or just about any other design aesthetic you may be trying to achieve in rooms that aren't ideal for real hardwood flooring. They can be versatile, easy to clean, and comes in a variety of colors and styles.
And they look like wood. We like that the best. In fact, we've dedicated a large section of our showroom to luxury vinyl.