In recent Out of the Woodwork posts, I've taken a look at the history of hardwood flooring in the second half of the 20th century and the first part of the 21st. What this history clearly reveals is the changing nature of hardwood floors. As with any aspect of interior design, they're trendy, going in-and-out of style.
A great thing about hardwood floors is that they can be re-stained if you ever want to change their look; nonetheless, what's popular at the time matters to most homeowners when they're selecting their flooring.
So now that I've looked at the past, I'm going to share some of the trends I'm anticipating in the next few years.
Luxury Vinyl
Luxury vinyl tile and luxury vinyl plank are becoming more popular, and I see that trend increasing. Luxury vinyl tile typically mimics the look of stone tiles, while luxury vinyl plank looks amazingly like wood, complete with natural-looking character marks.
Luxury vinyl plank will never replace wood—some people will always insist on the real thing. But for others, it's a new wood-look option that suits them perfectly. That's something I don't see changing anytime soon—many people are still going to want a wood look, even if it's not wood.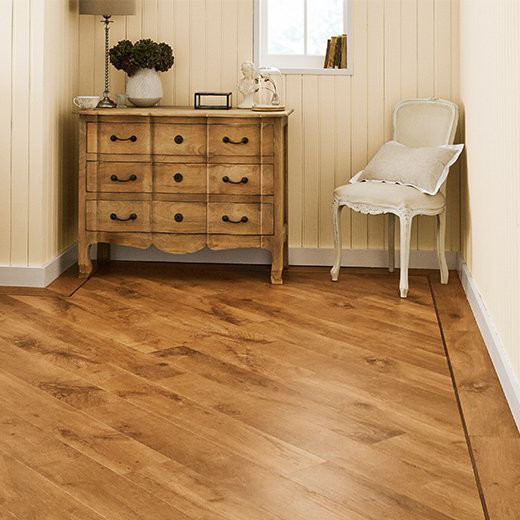 Unlike wood, luxury vinyl is not sensitive to humidity changes, so you won't have to worry about it expanding or contracting (which can cause wood floors to warp). It's also highly resistant to scuffing or scratching.
Homeowners who have hardwood floors in some rooms of their home may still get in on the trend by deciding to install luxury vinyl plank or tile in rooms that don't have hardwood, such as bathrooms with old-styled tile.
Luxury vinyl can be less expensive than hardwood floors, but not necessarily. It could actually cost more depending on the amount of work needed to prepare for the installation. Sometimes existing hardwood floors need to be removed, and sometimes sub-flooring must be brought up to the height necessary—or removed altogether because it's too uneven to fix or it's not waterproof.
Wider Boards
Boards wider than traditional hardwood planks have been trending in recent years, and I see that continuing to be a popular choice. Planks wider than 5" will become increasingly common.
Re-staining of reddish flooring
Twenty years ago, red-toned flooring such as Brazilian Cherry was a hot look. In recent years, we've been re-staining these reddish floors to play down the red. I think that will continue to be a common request for at least a few more years as more-neutral-colored flooring keeps trending as it has been.
Popular looks come and go, but hardwood floors will always be in style. We're happy to talk with you about flooring trends and how they relate to your personal taste and lifestyle. Just visit our showroom.