Grey isn't usually something we associate with vibrancy and excitement – gray clouds, gray mood, gray matter, and gray hair.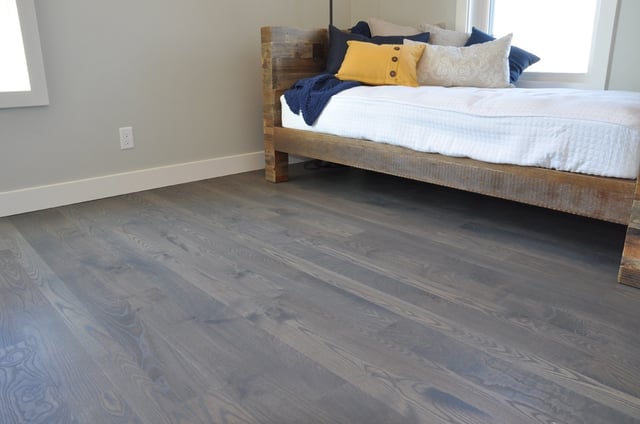 Well the time has come to change your perception of gray because when it comes to hardwood flooring gray is gold. It's quickly becoming the worst kept secret in our industry - gray hardwood flooring is an excellent way to make a unique and lasting statement in your home.
There are several reasons why gray hardwood floors are literally jumping off the shelves. The process used to design the floors enhances the grain, creating a striking appearance that isn't present in the usual brown hardwood floors. Second, they are unusual. One might think this would be a detraction but in reality many fans of gray hardwood flooring are drawn to these unique products for just that reason.
Visitors to our showroom tell me they love the look and feel of these floors so much and it's not difficult to see why they have grown in popularity.
For amateur home decorators and family members who are taking the lead in the maintenance and improvement of their family homes gray hardwood floors offer several engaging possibilities. Because gray is a neutral tone it can serve as a beautiful backdrop, especially among warm colours like red or orange.
Grey tends to look best in maple oak and hickory and the good news is there are plenty of those available in the marketplace. Hickory is particularly popular because it is extremely hard and offers the gray color with an undertone of brown. It is easy to tie into different colors in your home with this gray/brown look. Grey hardwood floors are an easy choice for any room in your home and can even work well in a room with bright colors, such as the dining room or guest lounge.
Are you thinking of adding a gray hardwood floor to your home? With several selections of gray to choose from our staff can help you discover a gray that will bring you confidence and make your home bounce. Don't hesitate to stop by and learn how you can add a touch of gray to your home.