One of the great appeals of custom hardwood flooring is its distinctiveness, which largely results from two factors—its natural attractiveness (beauty stands out) and the inherent uniqueness of custom designs.
A wonderful way to enhance this distinctive beauty and uniqueness is to install hardwood borders or medallions.
Whether as part of custom hardwood floor installation in a new or existing home, or as an addition to an existing floor, borders and medallions provide innumerable creative possibilities for you to design your dream floor, the floor that makes you personally go "wow."
That's the ultimate distinction—flooring that's a true reflection of your unique personality and taste.
Borders
Borders can be as simple as a single strip of contrasting (but complementary) wood, or as elaborate as intricate, multi-colored decorative patterns and designs, which are ideal for formal areas such as foyers or dining rooms.
Borders are often used to break up space in large open homes, or to unite different rooms into a common design theme. Many people like borders around their kitchen area. Some people simply use borders for feature stripes in doorways or archways. Use them in any way you like—they're your floors!
Medallions
Custom-designed medallion inlays are like signatures. They are as personal as it gets. Indeed, some people choose to have their family crest recreated as a medallion.
Medallion designs can range from the use of just a few types of wood to the use of hundreds of different sizes and numerous species. You can even use other materials such as stone, marble, metal, and glass. Most people are amazed at how complex and stunning medallion designs can be.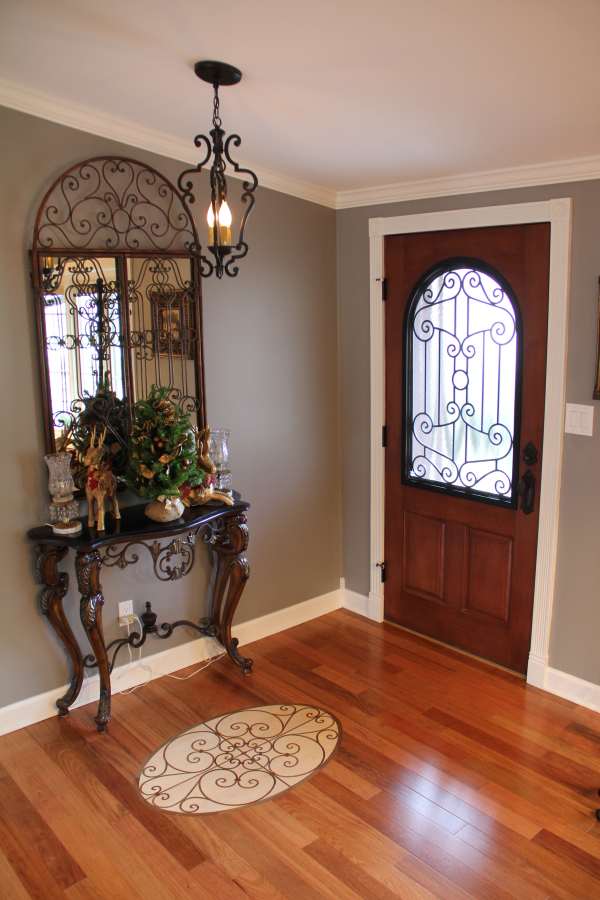 Medallions are often installed in foyers or entranceways, but in whatever room you put them (e.g., living room, study), they immediately become a focal point that defines the entire room, creating an unquestionably distinctive character.
Prefabricated vs. Custom
Ralph's Hardwoods works closely with Oshkosh Designs and Yarema Marquetry, and we proudly use their extensive selection of prefabricated borders and medallions. There are lots of prefabricated choices available to help you design a highly personalized floor.
We also offer our own specialized designs, and we have years of experience working with customers helping to develop their individual custom designs.
We can help you accomplish also almost any vision for hardwood borders or medallions that you have.