One of the major custom hardwood flooring trends we're seeing is the growing popularity of exotic hardwoods. Trees from all over the world can be used for hardwood floors, and many homeowners love the uncommonness and natural beauty of exotic species.
Because of their rarity, exotic woods are an excellent way to achieve the distinction and uniqueness that homeowners are looking for in custom hardwood flooring. Trees from other countries can vary dramatically from those we're used to in the U.S. Brazilian or Asian walnut will look quite different than American walnut grown here.
And because of the rich variety of woods available—with their wide selection of colors and grain patterns—exotic woods can greatly expand your interior design options, such as allowing you to "tie in" your flooring with furniture, bookshelves, walls, or windows.
At Ralph's, the most-popular exotic hardwoods among our customers include Asian Walnut, Brazilian Walnut, Spotted Gum, Cumaru, Santos Mahogany, Brazilian Cherry, and Amendoim.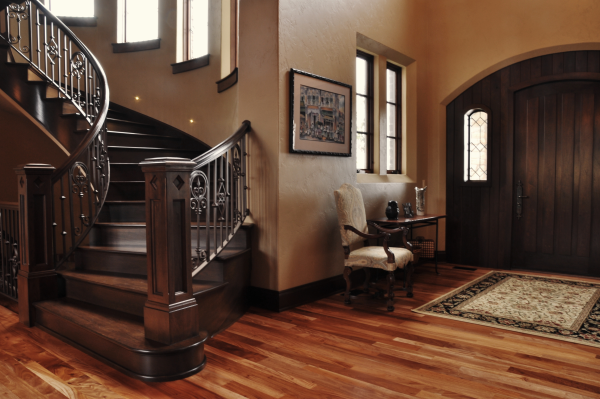 If you're intrigued by the possibilities opened up by using exotic wood, you probably have some questions about it. Here are three facts about exotic hardwoods that we hope will answer a few of them.
1. Many exotic woods are extremely hard.
The hardness of hardwood is measured on the Janka scale, and exotic hardwoods dominate the top of the Janka ratings. For example, Brazilian Cherry—perhaps the most popular exotic wood—has a rating of 2350, compared to only 1450 for Hard Maple and 995 for regular Cherry. And many exotic woods rank higher than Brazilian Cherry.
Hardness is particularly important if you expect your floors to see rough use. Pets, children, or having the floors in a heavy traffic area are all good reasons to consider hardness an important factor.
2. Exotic hardwood is available in solid, engineered, prefinished, and finished on site products.
Most options available with traditional hardwood flooring are also available with exotic woods. It comes in different sheens, widths, and lengths.
3. Responsible harvesters replenish what they cut.
Some may be concerned about the environmental harm that could come from harvesting exotic species for use as flooring. But, by and large, the industry is diligent about replanting. At Ralph's, we work only with suppliers that practice sustainable forest management.
We'd be glad to talk with you more about how you can stylishly use exotic wood in your home. There's a whole world of possibilities.