Looking at pictures of the White House, the room we most often see is the Oval Office. This is every U.S. president's office and perhaps one of the most recognizable rooms today. When it was last renovated in 2017, we could see photos of the Oval Office stripped of all furniture, including the rug bearing the presidential seal, which usually covers most of its exquisite hardwood floor.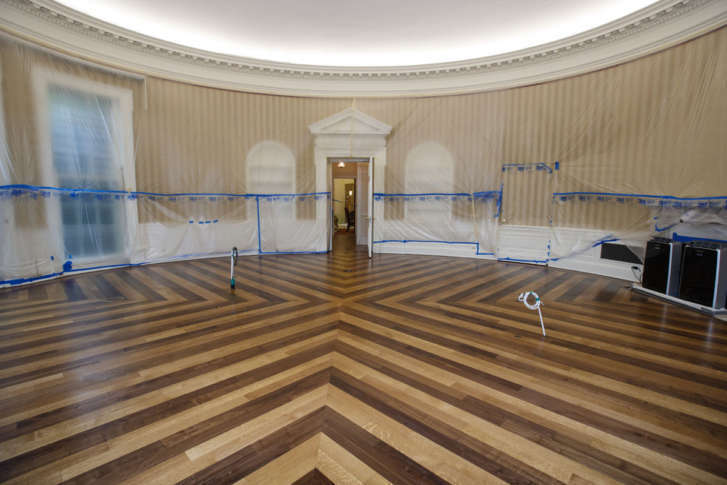 The creativity of its design is still inspiring to homeowners and hardwood flooring professionals today. But creative hardwood floors aren't only for the White House! If you want a more creative, striking look for your home, it can be done — just like Nancy Reagan did it for the Oval Office back in the 80s.
The Oval Office Hardwood Floor
Before Nancy Reagan's Oval Office remodel, it had a linoleum floor, which didn't quite match the grandiosity of a president's residence. Today, the Oval Office is adorned by a boldly patterned hardwood floor, made of alternating quarter-sawn oak and walnut, both in very thin planks. A cross pattern spreads through the room from its center, created by the light gold stain on the oak and a grayish-green stain on the walnut. The design resembles a chessboard and has a lot of symbolism in addition to looking fantastic.
Evoking the Feel of White House Hardwood Floors
If you love the look of the Oval Office's hardwood floor, it's possible to recreate some of its elements and adjust them to your own vision. For example, a cross-pattern works well in the Oval Office, but it could be adjusted to a square room as well. The pattern would need to be tilted so that it starts from the corners of the room. You can alternate light stain and dark stain on thin, long planks to really evoke the Oval Office design.
Playing with Hardwood Flooring Patterns
Of course, it's possible to find some interior design inspiration just by playing with custom hardwood flooring patterns and cuts. For example, planks can be laid diagonally, but there are other options as well.
Herringbone and chevron flooring patterns are both sophisticated-looking and unique, and creative staining can make them even more so. You could also choose a mosaic layout, or add borders and medallions for a truly striking look. The options are endless. If you're having trouble deciding, a hardwood flooring professional will know how to help you hone your vision and make it come to life.
The White House's hardwood floors have a timeless, sophisticated quality to them, and you can achieve the same thing in your home. Visit our showroom and we'll help you figure out what works for you.