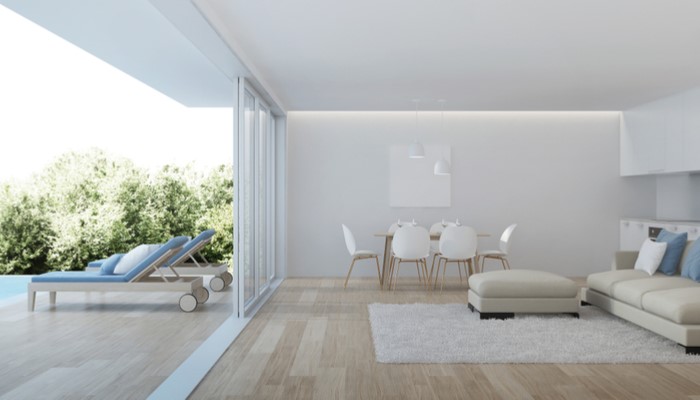 When you're renovating or building a new home, determining a budget and sticking to it is essential. Naturally, you'll be looking to save some of your hard-earned money wherever possible. But when is it time to save, and when is it better to invest?
Many homeowners worry about the expense of real hardwood flooring, so they turn to other options, such as vinyl. (Actually, lower-priced hardwood is generally no more expensive than the higher-priced vinyl.)
However, settling for a cheaper option might not be in your wallet's best interest, even though it may seem that way.
Buying From a Big-Box Home Improvement Store
Avoiding big-box home improvement stores is often a wise choice, but it's sometimes difficult to do, especially if you're on a tight budget. The prices are lower, the wares seem more convenient, and they might check enough of your "perfect flooring" boxes for you to consider.
However, the prices are usually lower for a reason — one that you may not like and might not recognize. For example, even though certain types of vinyl may imitate the look and benefits of hardwood flooring for a lower price, they also usually come with some flaws hardwood doesn't have. Thin planks and bad adhesive are common problems that lead to a shorter lifetime of the flooring. It's not cost-effective, even though the lower price may suggest that.
Also, when you buy products from a big-box store, it doesn't include installation. If customers want to install on their own, they probably won't have all the equipment or supplies needed to install.
Can Paying More Upfront Cost Less in the Long Run?
The longevity of hardwood flooring will ensure that installing it was money well-spent in the long term. Depending on the type of wood and finish, it may need re-touches at some point, but they won't break the bank. Compare that to needing a full flooring replacement every few years with options that are cheaper in the short term, but also short-lived.
It's also important to note that hardwood flooring can increase the value of your home. Hardwood flooring is very sought-after, so installing it instead of a cheaper option is a good investment for the future.
What If You Really Want Hardwood Flooring?
If budget is your only reason to look for alternatives to hardwood flooring, consider the long-term factors. Unless the price is unattainable, it's almost always better to go with hardwood flooring if you already want it.
Perhaps the most critical factor is your happiness: you won't feel like you settled. There's a reason why hardwood floors are valued—they bring enthusiasm and pleasure to the homeowner, increasing their quality of life. If something makes you happy every time you look at it, then it is already paying off.
When it comes to flooring, paying more upfront can end up costing you less in the long run. If you choose hardwood flooring that is suitable for your lifestyle and preferences, it will last you a long time and make you happy you invested in it.
Here at Ralph's, we would love to show you how marvelous hardwood flooring can be. Visit our showroom to see what we can offer!