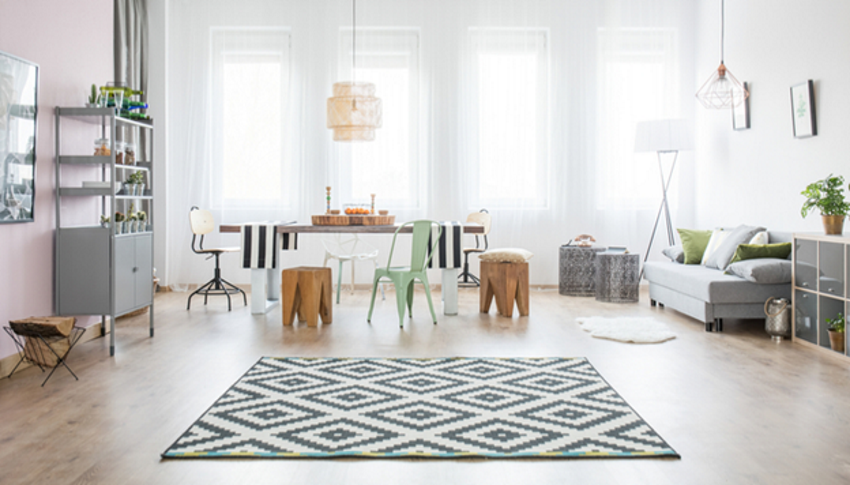 After you've installed your brand-new hardwood floors, it's time to move on with making your interior-design dreams come true. You're likely going to use rugs both to protect the hardwood floors and to elevate your design. But how can the combination of flooring and rugs match beautifully from an interior design sense? Here are a few things you might want to keep in mind when choosing a rug for your hardwood floors.
Options for Light Wood
When it comes to rug color, light hardwood floors are quite versatile. They allow for a pop of color, or a dark accent to create a bold focal point. However, if you wish to keep things neutral, choose a rug that blends well with the color of your floor—either by using its lightest or its darkest shade.
Options for Dark Wood
A dark hardwood floor benefits from a large area rug in ways similar to its lighter counterpart. However, with a dark surface, you have a little less freedom of choice when it comes to the color of the rug. Darker wood usually matches best with dark, deep, and vibrant colors.
Dark floors allow for a pop of color as well as the light options, but you should try sticking to warmer shades to open up space and make it appear more inviting.
Rug Patterns and Textures
Another critical point in the relationship between hardwood floors and rugs is mixing and matching different patterns and textures. When it comes to choosing a covering, a lot will depend on the floor. The primary goal is to emphasize the beauty of the flooring. Just because a rug is gorgeous doesn't necessarily mean it's a good fit.
When there are too many similar-looking details to be spotted and processed at once, our eyes tend to disregard them as if they were visual noise. So even if a floor and a rug look beautiful on their own, that doesn't mean they won't clash. If you find that they do, try changing up the position of the rug so that its pattern creates a contrast with the wood's grain rather than detract from it.
Finally, there's the question of textures. What rug you choose will mostly depend on the atmosphere you're aiming for. If you want the room to look cozy, you could use a sheepskin or something fluffy and shaggy. Alternatively, you could go with a more classic look with a standard rug texture. Whatever you feel brings the right amount of character to a room will work.