In my past two Out of the Woodwork posts, I discussed the history of hardwood floors since my father founded Ralph's in 1965.
In the 1960's and 70's, hardwood flooring went from being a common choice to seeming to be an outdated choice. Carpeting and vinyl floors surged in popularity during a brief fascination.
In the 80's and 90's, hardwood floors became widely popular again.
In the 21st century, homeowners' love of hardwood floors has continued to grow, and several trends stand out.
The 00's
Red-toned hardwood flooring was a popular look at the turn of the century, and it continued to be so through most of the 00's, until homeowners' began looking for lighter-toned floors later in the decade.
In the mid-00's, there was a definite trend toward exotic hardwood species from Africa, China, and South America, such as Asian Walnut, Brazilian Walnut, and Cumaru (i.e., Brazilian Teak). We also saw a rise in requests for Bamboo. Although not technically a wood, Bamboo appeals to many homeowners who otherwise would choose a hardwood.
Another trend during this period was prefinished hardwood flooring. The quality of prefinished floors has improved substantially, to the point that we are very proud to carry products from the best manufacturers. Prefinished floors don't allow for as much customization as site-finished flooring, but homeowners and home builders can see exactly the look they're getting, and for many it's the right choice.
We are now re-sanding and refinishing many of the floors installed during the 00's—usually not because of wear but to change the stain color to a lighter shade. That's particularly true with the orangish, reddish colors that many exotic woods naturally have. With our expertise, we can tone down those colors in favor of the subtler look that is currently in style.
The 10's
In this decade, we've seen a rise in the popularity of textured floors, such as floors we wire-brush or hand-scrape to create a worn, natural look.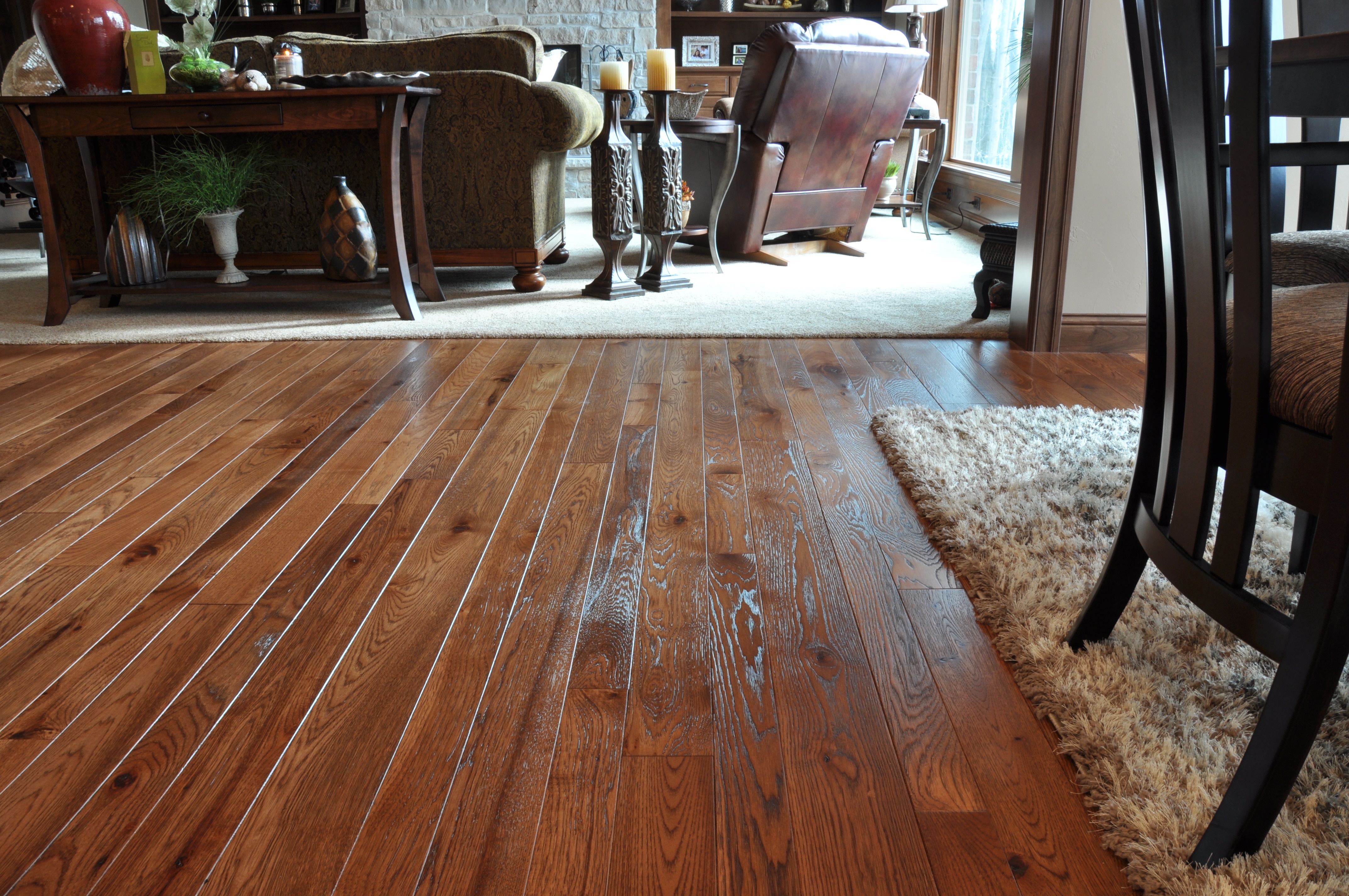 For a few years, the popular look was trending back to darker stains, some of which were so dark they were virtually black. The blackish look has lost some of its trendiness, but brown tones have remained popular. Depending on personal taste, brownish floors can work just as well as lighter-toned floors to create an earthy, relaxed feel, which has become a preferred look for many people.
This desire for a natural, restrained look has also driven the recent popularity of gray floors, which have a natural, neutral tone that is extremely versatile and can work with a wide range of interior-design styles.
Planks that are wider than the traditional narrow planks have also become a favorite choice. In past decades, planks just a little over 2" were the overwhelming norm, but now planks wider than 5" are common. This trend doesn't appear to be related to any specific interior-design goals. Regardless of the look they're after, wider boards are appealing to most of our customers these days.
A development worth mentioning is the increased use of luxury vinyl tile that looks remarkably like wood. As with prefinished floors in the 00's, the quality of this type of flooring has risen to the point that it's a great option for many people because of its resistance to scratching, ease of maintenance, and visual bang for the buck. We are happy to sell it.
What's going to happen in the next 20 years? Luxury vinyl tile, prefinished flooring, and engineered wood flooring are all becoming increasingly attractive options to homeowners. Does that mean that site-finished hardwood flooring will become a thing of the past? We don't think so, and I'll explain why in my next Out of the Woodwork post. There's plenty of room in the flooring world for all of these options!