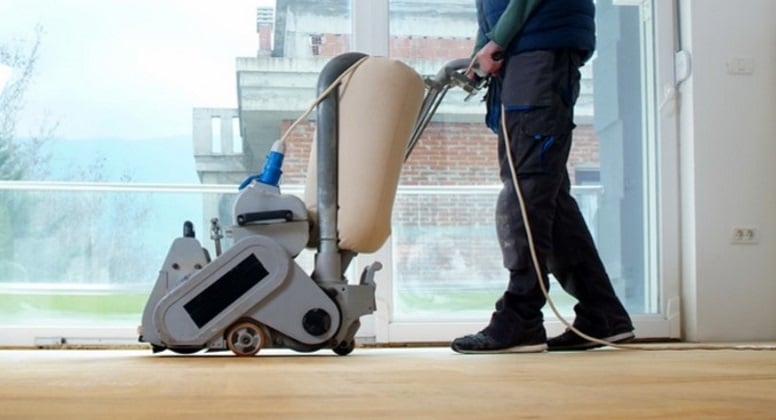 Hardwood floors can last a very long time with proper care. But that doesn't mean they won't suffer from wear and tear after years of use.
Fortunately, a hardwood floor that looks old and worn doesn't necessarily need to be replaced.
One of the significant benefits of hardwood flooring is that you can refinish most floors to make them look like new.
Hardwood floor re-coating is the process of doing a light sanding and adding a coat of finish. A simple re-coating is often all that's needed, but in cases where a floor has dents, discoloration, deep scratches, urine damage, water damage, etc., refinishing will involve re-sanding the floor.
You may also decide to re-sand the floors if you want to change the sheen or color of your flooring.
Quality engineered hardwood flooring can be re-sanded, but not as often as solid-plank floors, which can be re-sanded numerous times, up until the tongue-and-groove shows where the boards meet.
Hardwood floors in the main living areas or the kitchen are usually the first to need refinishing. Bedroom floors are often in much better shape, so they might not need to be refinished as often.
When you need to replace instead of refinish
There's a difference between a floor that looks worn out and a floor that needs to be totally replaced. In cases of structural damage such as rotting wood, replacement may be the only way to achieve the beauty of new hardwood flooring.
Another common reason for replacement is the desire for a total change-up—going with another wood species, or a different width, length, or orientation of the flooring planks.
Ralph's is dedicated to providing the best possible results for your floors during the refinishing and/or re-sanding process. (If re-sanding is needed, we provide state-of the-art dustless sanding.) Visit our showroom to see what we can offer!