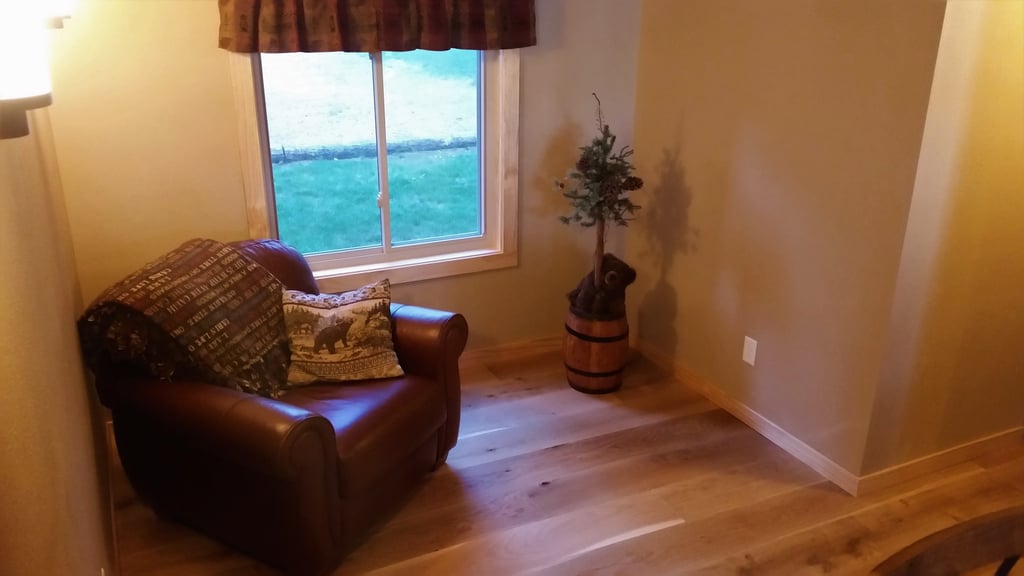 In Wisconsin, many people will say they are going "up north" for the weekend. It might be a trip to Shawano Lake. Or "up north" could be Door County. Others might consider a rafting trip down the Wolf River, or 18 holes on a golf course, their "up north."
When my family and I go up north for some vacation time, we love to visit my sister and brother-in-law, Brian and Jill, who have a cabin in Minocqua. It's a trip we always look forward to.
Brian and Jill take a lot of pride in their cabin, and they are constantly working on home improvement projects. I think it's relaxing for them. Even though it's work, it's not the work they do for a living. I enjoy watching them go at it (and helping, when I'm not in the way) because of the great pride they have in their cabin.
Considering the care that Brian and Jill give their cabin, I feel honored that they choose Ralph's when they are making flooring improvements. Even with the family connection, they wouldn't use us if weren't up to their high standards.
When they built an addition to the original cabin, we installed some really rustic-looking Ash floors. Ash is a great hardwood for cabins because it's pretty forgiving of humidity changes. Vacation cabins that aren't kept at the same temperature and humidity when the homeowners are away need relatively stable woods like Ash, which are less likely to cup or buckle due to humidity changes.
When Brian and Jill decided to remodel the original part of the cabin, they used Ralph's again. They wanted the project to be simple, so we helped them decide on prefinished engineered hardwood. Not only did this make the installation quicker, quality engineered hardwood flooring typically handles humidity changes better than solid plank hardwood.
The species they chose was European white oak, which has a nice natural look that's perfect for a getaway cabin and is an excellent complement to the Ash floors in the addition. We were able to complete the project in a day, and Brian and Jill were very satisfied with the result.
To me, the work we've done at the cabin is a perfect example of how to choose the right flooring for a particular situation. We accomplished two things: the floors have just the right natural look for the cabin's relaxed, casual atmosphere, and they also are a great choice for the humidity conditions.
Best of all, my wife, kids, and I also get to enjoy them! I can't wait until the next time we're walking on them. It's always a fun, laid-back time. And it makes me feel good that Ralph's successfully contributed to the home improvements that my sister and brother-in-law love to make.
Ralph's is happy to work with you to select the right species and type of flooring for your home, whether it's a vacation home or your primary residence. In addition to solid-plank, site-finished hardwood floors, we also offer a wide range of quality prefinished and engineered hardwood products, as well as luxury vinyl plank and tile.
Whatever look you're after, and whatever the humidity conditions, we have the right flooring for you. Stop by our showroom any time to explore the possibilities, or give us a call at 920.984.3383 or 800.354.9902to talk about your project.