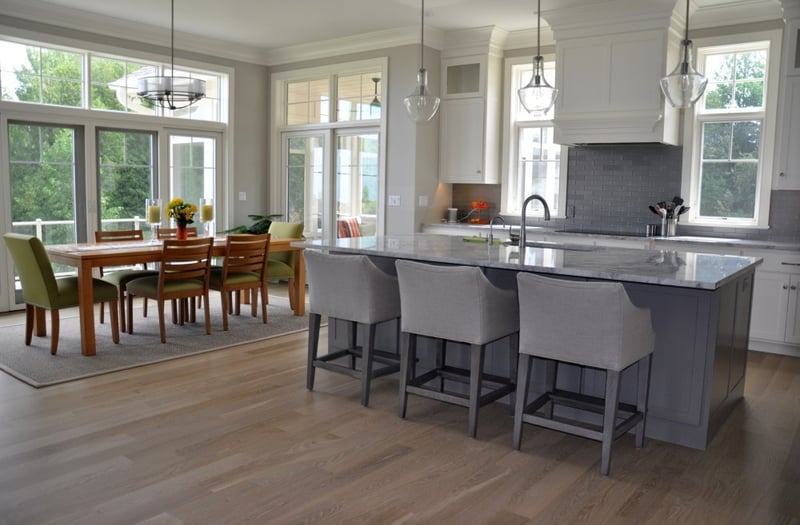 In this final blog in our seires on using hardwood floors in popular decorating styles, we're thinking about relaxing at the becach!
If your home is near water, you may want a relaxed, informal beach house look to compliment the natural setting. With its care-free charm, this style puts people at ease while connecting them to the aquatic surroundings.
If you desire a beach house look, for your main residence or a vacation home, here are some quick tips about how you can use hardwood flooring to create it.
Natural, aged, and textured looks fit perfectly into a beach house theme. Flooring that looks worn by the elements (think of the hull of an old wooden boat) not only has a relaxed feel to it, it'll keep you from being anxious about wear and tear. You can use reclaimed wood or have your flooring wire-brushed, hand-scraped, or distressed to give it an aged appearance.
Light brown, grey, and white floors contribute to a light, airy feel that many people love. These light-toned floors can often be strikingly contrasted with darker trim, window fixtures, celling planks, etc.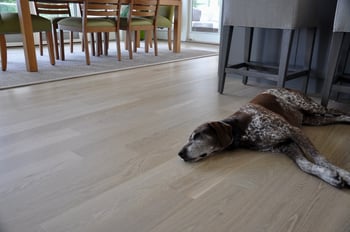 Consider using high-quality engineered hardwood floors. If you like to leave the windows open to feel the breeze and smell the sea air, but you also like to close them up sometimes and cool off with the AC, well-manufactured engineered flooring is a practical choice because it is less suseptible to cupping and gapping due to moisture fluctuations than solid plank flooring is.
Work with a hardwood floor company experienced with beach house flooring. From providing advice about design possibilities and performance considerations to ensuring the wood is correctly acclimated to the home's environment before installation, the right hardwood flooring company can make all the difference.
Please stop by our showroom or give us a call if you'd like to discuss the beach house look for your home.
More Getting Just the Look You Want