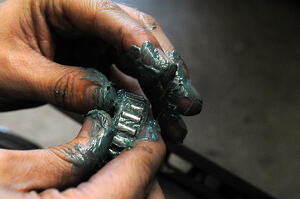 I recently needed to buy a grease gun for my lawnmower, which has five spots that need greasing. I didn't want the bearing to tighten up, so I went to a big box store to buy a grease gun and grease.
How complicated could that be?
A lot more than I thought. One whole aisle was dedicated to grease and grease guns. I just wanted a section on the aisle labeled "for lawnmowers," but it wasn't that simple. And there was no one in sight to point me to what I needed.
I spent the next 30 minutes reading each of the tubes, trying to figure out what would work. All this for just five spots that only need to be greased a few times a year.
Even after a half-hour of looking—with no offer of assistance—I couldn't determine what I needed. So I tracked down a store employee for help. Guess what? He started looking at the tube labels, just as I had already done!
Finally, I guessed.
That experience made me think about what we do at Ralph's Hardwoods. There are more choices than ever when it comes to hardwood floors. Many homeowners who are considering buying hardwood flooring understandably feel like I did on the grease gun aisle—so many choices, but no good way to pick the right one.
But you don't have to feel that way. When you come to Ralph's for help with hardwood flooring, we don't leave you "wandering the aisle." We take the complication out of buying hardwood floors.
We will ask questions about your home and the appearance you're looking for, so we can best help you get the floors you want. To ensure good performance from your floors, we'll also ask important practical questions such as: "Do you have pets or small children?" and "What will the humidity conditions be like in the rooms where floors will be installed?"
We'll understand your budget and use our expertise and creativity to help you find the floor you're looking for within that budget.
Unlike I had to do in the big box store, at Ralph's Hardwoods you won't have to go looking for help, only to find that no one has any answers for you.
We're eager to help—and all of our employees have the knowledge to help. Personalized service is the cornerstone of our business philosophy, and we hope you'll let us demonstrate that to you.
Photo courtesy of U.S. Coast Guard. Available under the Creative Commons Attribution 2.0 License.