The history of parquet hardwood floors can be traced back to 17th Century France, from where they spread to become the flooring of choice of the European aristocratic class. Parquet's elegant, artistic look was something only the wealthiest could afford.
In modern times, however, the once-esteemed parquet style has for years been somewhat out of favor, as tastes have generally shifted toward more informal and minimalistic looks.
But there's no need to write a eulogy for parquet just yet! Over the past couple of years, we've seen an increasing interest in this beautiful, refined flooring style among homeowners who visit our showroom.
We couldn't be happier about this resurgence (perhaps inspired by the aristocratic "Downton Abbey" look?). Not all homeowners share the tastes that are inspiring casual, minimalistic styles, and parquet flooring is an excellent choice for those who want a high degree of visual stimulation with a sense of courtly stylishness.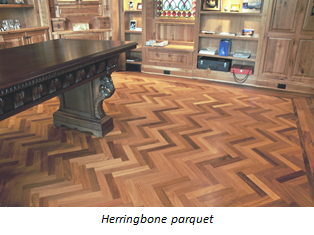 What distinguishes parquet from other hardwood flooring is that it is patterned, consisting of a mosaic of geometric designs. It is created using solid wood slats that are installed in a parquet pattern, or with manufactured parquet panels, which consist of individual slats held together in a pattern by tape, which is removed after installation.
One of the most popular parquet patterns is herringbone, a classic European style that consists of right angles—a look often compared to a woven basket. When installed as solid wood, the floor is made by orienting short rows of slanted parallel wood slats in opposition to each other (i.e., at right angles).
The "v" shapes formed by the right angles can be oriented lengthwise along a room or diagonally. The look can be enhanced further by using alternating species, stains, textures, etc. to make the pattern stand out.
Two popular variations of herringbone are double herringbone, in which double rows of wood are used, and chevron, in which the ends of slats are cut off at an angle.
Not crazy about herringbone? No problem. One of the great attractions of parquet is that skilled artisans can create innumerable distinctive patterns. Virtually anything is possible. You can have a floor that's completely unique.
And also keep in mind that parquet can be used very beautifully and strikingly in borders and medallions in main rooms, foyers, and hallways. As an accent, parquet can be just the thing to add some visual interest without dominating a look.
One important consideration in choosing parquet is that it usually requires expert installation by professionals who have done it before, like you'll find at Ralph's Hardwood Floors. DIY installation may be possible with manufactured parquet panels (although we don't recommend it), but installation of solid-plank parquet isn't something for amateurs to tackle. It takes a seasoned touch to get the alignment right—and without that alignment, the parquet pattern loses its magic.
To read about the parquet in Downton Abbey, read our blog, "Downton Abbey, Hardwood Floors, and Old World Style." To view samples of parquet floors, please visit our showroom.