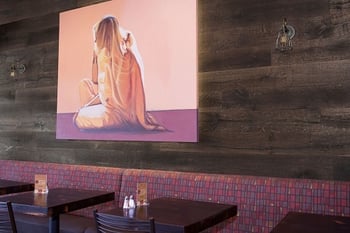 People have been using hardwood as walls for many years, often very plainly but sometime quite ornately. Dark paneled hardwood walls, for example, have long been common in stately homes.
But I don't think hardwood walls have ever been used as stylishly as they are now. I'm seeing more and more beautiful uses of hardwood walls, and we're getting greater interest in them than ever at our showroom.
I certainly understand why. They can provide just the right accent to hardwood flooring, as well as to the furnishings, trim, and accessories in a room. Hardwood walls can also become the focal point of a room, uniting its design.
In either case, color is a key element in the look hardwood walls create. In general, the color of a hardwood wall (whether natural, stained, or painted) should pleasingly contrast in some way with other colors in the room, creating visual interest. The attractive color combinations are virtually endless, but one generalization I can make is that white walls team well with almost any hardwood floor.
Texture is another important consideration. Just as with flooring, you can have hardwood walls that are smooth and sleek or that have much texture. Some of the most striking hardwood walls that I've seen have made use of reclaimed wood, with all its wonderful natural texture and character. Reclaimed hardwood walls can really connect a room to the natural surroundings outside its windows.
But I've also seen hardwood walls pull together minimalist modern designs. I've seen them add spice in eclectic styles. I've seen them look elegant in their traditional role as dark "library-style" walls. They are just as versatile as hardwood flooring.
However they're used, hardwood walls almost always make a room feel warmer, more intimate, and more interesting.
Stop by our showroom, and we'll be glad to talk with your about how you can use hardwood walls in your home. They may be just the thing you've been looking for to elevate your interior design to another level.