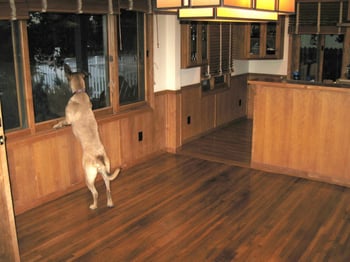 "Durability" in hardwood floors refers to how long the floor can look good without the need for refinishing. Your lifestyle will determine how important this factor is.
If you have a lot of traffic on your floors (kids, pets, a lot of entertaining, etc.), a more durable floor can pay big dividends down the road, as you may be able to put off refinishing for years longer.
On the other hand, if floors will see light traffic (as in, say, a little-used formal dining room), durability becomes less of a concern. That's because virtually any hardwood floor, regardless of its durability, can stand up to light use for many years before refinishing is necessary.
When determining durability, the first element to consider is the hardness of the species of wood used for the flooring. The harder the wood, the more resistant it is to denting. You can determine how hard a wood is by looking up its score on the Janka hardness test. Popular species that are very hard include Hickory, Brazilian cherry, and Asian Walnut.
However, hardness isn't the only consideration. We advise customers seeking highly durable floors to also consider the grain of the wood they're choosing. Some species have prominent grain patterns, which help to hide any dents and scratches, thereby delaying the need for refinishing.
And you can't forget the finish itself. We've consistently found that urethane "conversion varnish" finishes—such as our Swedish Finish—look better longer than polyurethane finishes. That's not to say that polyurethane finishes can't be beautiful and durable, but if you expect heavy traffic on your floors, a conversion varnish is worth considering.
You should also pay attention to the sheen of the finish. Glossy finishes will show dents, scratches, etc. more readily than matte finishes. Color is another factor—dark-stained floors will show wear more than light-to-medium stains.
All that said, one point we're always sure to make is that even the least durable hardwood floors are still extremely durable. They're all easy to care for and to keep looking wonderful for many years. Some just happen to be more durable than others—which may or may not be an important part of your decision about which flooring to go with.
Image courtesy of simonov, Creative Commons.