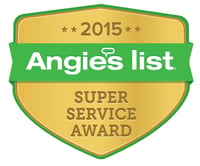 A few weeks ago, I wrote about us winning a Best of Customer Service Award from the Houzz website.
I guess when it rains, it pours, because we've won another award that confirms that we're fulfilling our commitment to providing the best customer service possible. Angie's List, the well-known online transaction and consumer-review website, chose us to receive its Super Service Award.
The award reflects "an exemplary year of service provided to members" of its site, according to Angie's List.
"Only about 5 percent of the flooring companies in the Green Bay/Fox Cities market have performed well enough, so consistently, to earn our Super Service Award," said Angie's List Founder Angie Hicks. "It's a really high standard."
Service company ratings are updated daily on Angie's List, and companies are graded on an A through F scale in areas ranging from price to professionalism to punctuality.
In winning the Super Service Award, Ralph's met strict eligibility requirements. Award winners must:
- have an "A" rating in overall grade, recent grade, and review period grade.
- be in good standing with Angie's List.
- pass a background check.
- abide by Angie's List operational guidelines.
Fulfilling the "A" rating requirement is what really gets us excited at Ralph's.
"Nothing makes us happier than delighting our customers," says Jackie Archambeau, a member of our sales team since 2007. "Our goal is not simply to satisfy our customers; it's to blow them away with our level of service and quality. Our crew members take tremendous pride in their work and our sales team goes out of its way to be exceptionally helpful."
Jackie is a perfect example of the type of team member we hire—she knows hardwood floors well, and she's a people person. That makes her great at helping customers select the flooring that's just right for them and will keep them happy for years.
And, like all our team members, she is driven to give customers a wonderful experience in all stages of their hardwood floor project.
Every day I come to work, I can tell that this attitude of going the extra mile to delight customers has taken hold at Ralph's. We didn't need to win the Angie's List and Houzz awards to realize that.
But it sure is nice to get these awards! It's always rewarding to know that our devotion to customer service is being noticed and appreciated.
Angie's List helps facilitate happy transactions between more than 3 million consumers nationwide and its collection of highly rated service providers in more than 720 categories of service, ranging from home improvement to health care. Built on a foundation of more than 10 million verified reviews of local service, Angie's List connects consumers directly to its online marketplace of services from member-reviewed providers, and it offers unique tools and support designed to improve the local service experience for both consumers and service professionals.