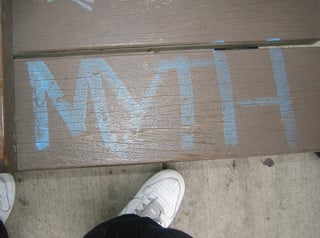 Here at Ralph's Hardwood, we love wood and we think all wood floors are beautiful. This fact seems obvious but it doesn't stop people in our showroom from asking us all the time, "which is better: sand on site or prefinished?".
Our answer is always the same - it depends.
Dispelling Some Myths
If you do some research you will find different reasons why you should choose site finished instead of pre-finished and vice versa. While most of these ideas held some truth at one point, they aren't really as relevant today. We don't think the question is so much about which is better as much as it is about which is better for your project.
Let's start by dispelling (or at least clarify) a few myths about sand on site versus prefinished hardwood floors:
Style - often you will hear that prefinished flooring styles are limited but this isn't necessarily the case. While prefinished doesn't give the complete flexibility you get with site finished floors, today's manufacturers have created more style and color options that ever before. The style limitations come into play when you want a specific color and a specific texture and a specific width. This kind of customization is only available with sand on site.
Installation Mess - there are many articles that will tell you sand on site floors are messy and that your house will be filled with sanding dust. Not with Ralph's. We use a superior dust removal system that includes a containment system that has been modified to work with our removal and installation equipment.
Cure Time - Traditionally site finished flooring needed anywhere from a few days to a week for the floor to dry and cure. This isn't necessarily the case anymore with portable UV finish systems that when coupled with water-based UV finishes enable much shorter cure times.
Odors and Fumes – ok, so this may not exactly be a myth. Hardwood floor finishes often have an odor however many products for sand on site floors now utilize special formulations to reduce odors and fumes and wax has experienced a real come back and has no odor at all. So while site finished floors may have fumes or odors, they can minimized depending on how you have them finished.
So What Should You Do?
Instead of worrying too much about prefinished versus site finished, we suggest you look at many different hardwood samples and go with the one you like best. Once you have a sense of floor you like, one of our hardwood expert can help you find the best option for your project, timeline and budget.
That way you can focus on getting your dream floor and not be overly focused on sand on site versus prefinished.
Photo courtesy of CLEAN_UP