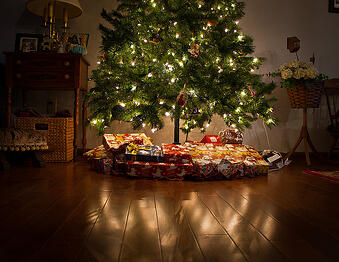 There's nothing I enjoy more than settling in for Christmas at home with my family. It's a time for good times with the people I love, gathered around the Christmas tree, sharing moments we'll always cherish.
I remember one such moment with my wife's side of the family—a moment we're sure to talk about again this Christmas, like we do every year.
In addition to regular gifts, it's a tradition in Rhonda's family to have a $10 Secret Santa gift exchange every Christmas, just for fun. It's a game where we pick gifts and "steal" them from each other, all trying to end up with a gift we want.
Some of the gifts are silly, meant to get laughs, which they do—but nobody wants them. Some of them are actually things worth having, but that gets laughs too as everyone angles to end up with one of those gifts.
When Rhonda's Uncle Curt put a $10 lottery ticket into the pile one year, that was the gift everyone wanted. That lottery ticket changed hands many times, but Rhonda finally ended up with it, and we all watched as she scratched off the ticket with a big smile. Of course, she didn't expect to win anything but…
It was a $10,000 winner!
Needless to say, everyone went bonkers—screaming, jumping up and down, running around the room.
Everyone, that is, except for Uncle Curt, who—looking back on it—was curiously quite in his chair. He waited for us all to settle down, then with a knowing grin, he quietly said, "Did you read the back of it?"
Turns out it was a joke ticket. First there was a stunned silence, then we all broke out in crazy laughter. Some of us were literally rolling on the floor. Uncle Curt sure enjoyed it! I can guarantee that prank will come up again this year as we continue the Secret Santa tradition.
I'm very happy that memories like that are now happening in my home. I take great pleasure in being able to host family and friends every Christmas. Everyone happy together in the same room, with all the presents around the tree, is a beautiful sight. It's what Christmas is all about.
Being a hardwood floor guy, I pay a lot of attention to flooring, and Christmas just wouldn't seem right on anything other than a beautiful hardwood floor. Christmas is a time for traditions, and hardwood flooring is as traditional as you can get.
One Christmas when I was a kid, my family put off buying a Christmas tree until the last minute and ended up with a scraggly looking tree whose needles fell all over the hardwood floor. We still laugh about that memory, too.
My family now puts a tree in early, so we can be sure to get a great tree and begin to enjoy it sooner. But one thing hasn't changed—the floors our Christmases happen on are beautiful hardwoods.
If you'd like your home to be a place where Christmas memories are made, but you're not happy with how it looks, installing hardwood floors (or refinishing existing ones) can make you proud to open your door to guests again. And like a Christmas tree, there's no sense in putting it off—hardwood floors can last a lifetime, so why not go ahead and start enjoying them?
I know my family will be enjoying our hardwood floors this Christmas, as we make memories that we'll still be telling our grandchildren years from now on the same floors. And we'll be carefully watching Uncle Curt! No telling what he'll pull.
Making memories is "Christmas Present." In my next email, I'll talk about "Christmas Future." If you'd like to read about that scraggly Christmas tree in my "Christmas Past," click here.
Photo courtesy of owenkohai. Available under the Creative Commons Attribution 2.0 License.