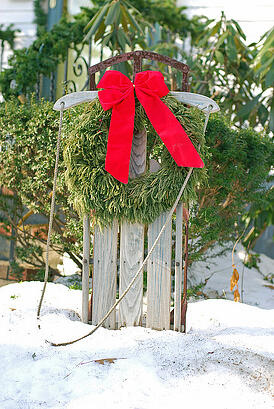 Christmas gifts for kids sure have changed—nowadays it seems they all need batteries or power cords.
It wasn't like that when I was growing up. We powered our own toys!
I love to remember one of my all-time favorite Christmas presents, which needed absolutely no electricity to enjoy.
In the days leading up to Christmas, I had an inkling something special was coming because my Dad kept disappearing into his workshop, and he wouldn't let me follow him as he usually did. "What was he up to?" I kept wondering, hoping and hoping it had something to do with a present for me.
On Christmas morning, I finally got my answer. Dad had in fact been working on something for me—a really fantastic sled!
I was thrilled. Dad had built the sled entirely himself, and as usual he had done an excellent job with the craftsmanship. And a sled was just what I wanted. There was a hill behind the barn on the farm where I grew up, and every time I saw it, it made me want a sled. This present was perfect.
My family, friends, and I took turns sliding my new sled down that hill all Christmas Day. It's a great time I'll always remember.
Sometimes I feel nostalgic for the way toys used to be. They seemed to require more creativity and effort to enjoy, and I think that made them special. It's hard for me to imagine a video game being more fun than my sled was.
When I start feeling that way, I remind myself that it's not the gifts that matter at Christmas—it's togetherness with family. Whether it's Dad and me trying out my new sled or my kids and me playing Xbox, the important thing is that we're doing it together.
I bet my kids will feel the same way years from now when they're giving gifts to their children—although who knows what they'll be asking Santa Claus for 20 years from now!
I can't picture the futuristic toys my grandchildren will be opening, but one thing I can clearly envision about future Christmases is all generations of our family gathered together in a cozy room—with hardwood floors.
Why do I see hardwood floors in that scene? For one thing, hardwood floors are the best flooring for bringing out the beauty of a Christmas tree and other holiday decorations. Hardwood floors have a time-honored charm that sets the perfect mood for the season.
But it's also because, unlike today's most-popular toys, hardwood floors are here to stay. They last a lifetime and don't go out of style. On the same hardwood floors where iPads are now waiting wrapped under the Christmas tree, toy jetpacks (or whatever) will lie wrapped for the next generation.
It's reassuring to me to know that some things about Christmas never change, and the traditional character of hardwood floors remind me of that. This year as my kids are opening toys that didn't even exist when I was a kid, I'll take comfort in the floor beneath my feet. Unlike those toys, I know it will last.
I completely expect hardwood floors to be part of my "Christmas Future." To read about their role in my "Christmas Past" click here. To get my thoughts on hardwoods and "Christmas Present," click here.
Photo courtesy of Eric Kilby. Available under the Creative Commons Attribution 2.0 License.