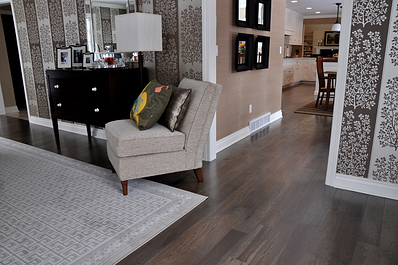 Not long ago, we got a call from a really nice couple who asked us to come look at the hardwood floors in their home. They wanted our advice on how they could refinish their floors in way that would help them get the perfect interior-design look they were after. As always, we were glad to provide a free consultation.
Natural, Understated Beauty
They obviously cared a lot about interior design, and they already had ideas. They knew they wanted a neutral color that would work well with other colors in their home. They had in mind a natural look, with an understated beauty.
After chatting a little, we suggested they come to the showroom and look at some of our greys. A great thing about grey is that is has so many shades—you can get just the look you're after—a dark grey, a light grey, a warm grey, a cool grey, "washed" grey, flint grey, "maritime" grey, pewter grey, and the list goes on and on.
You might think grey isn't a color that many people would choose for their home. But we've found that grey is not only an excellent complement to other colors, it's a soothing, cooling presence for a room—and it has become very popular among home owners.
What's To Like About Grey?
Grey may sometimes by associated with dreariness or formality, but it's not drab at all on hardwood floors.
People like grey because:
It shows off the grain and texture of hardwood, even more so than popular brown or blonde staining options.

It can be achieved using all-natural oils, making it an environmentally friendly choice.

It can be adjusted until it's "just right" for each homeowner's taste.

Its flexibility in shading and tone allows homeowners who want a unique, imaginative look to be very creative.
Like most interior-design trends in the U.S., this one began in New York and Los Angeles and is now moving across the rest of the country. It's natural, neutral, and gives you lots of flexibility in your interior-design choices—grey is hard to beat.
That couple's decision to go with grey didn't' surprise me at all. Grey has become a very popular color among homeowners with similar tastes. After their showroom visit, they got very excited. They had found just what they were looking for!
If you are fan of natural looks and want something that can be personalized to your taste, I encourage you to drop by our showroom and take a look. Grey might be beautiful for you too.