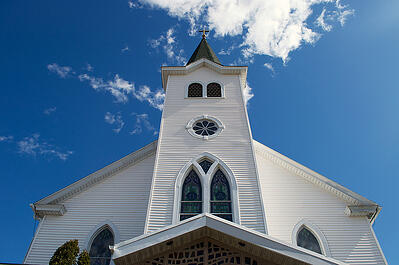 We've got an upcoming project that we're very pleased to do—helping the Grace Lutheran Church in Green Bay get the look they want in their sanctuary.
The sanctuary's hardwood altar and step area are curved, and the church needs curved hardwood nosing to match. We're going to make it happen for them.
We've been helping churches install and maintain hardwood floors for decades, and we love doing it. We consider it a privilege, and it's a pleasure to see how tasteful, beautiful, and appropriate hardwood floors look in churches. They have just the right warm, comfy, inviting tone.
Plus, it's a special feeling to work on floors that are going to be shared by so many in the community.
As much as we value working on churches, we don't do anything different for them than we do for homeowners. Whether it's a floor to be used by two people or 200, we approach all jobs with the same passion—to give the client the look and performance they want.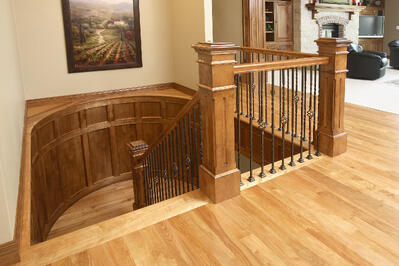 This is a sample picture of a curved hardwood staircase
There's virtually nothing you'll see in the hardwood floors in a church (or any other nonresidential building) that you can't get in your home.
Consider these recent church projects we've done and how they relate to residential options:
Zion Methodist Church in Forest Junction, Wisc.—Because we used an ultraviolet (UV) finishing technique, the church had a completely cured floor as soon as we left. (We use the same UV finishing technique for homeowners all the time. It's a great solution for anyone who wants to be able to use the floor right away with no disruption.)
Stella Maris Churches in Egg Harbor, Wisc., and Bailey's Harbor, Wisc. —Both of these churches were worried about people slipping on the hardwood floors, so we finished them with an anti-slip finish. (This anti-slip finish is available to any homeowner worried about falling, such as an elderly person.)
Saint Thomas Church in Newton, Wisc. —To make sure people could see a raised section and not trip over it, we made the bull nosing (i.e., step down) of the platform- section a different color. (Similarly, we often help homeowners create raised areas- in their homes, with customized bull nosing.
The scale of the job may be bigger in churches and other nonresidential projects—but our attention to detail, insistence on superior craftsmanship, use of innovative technology, and focus on outstanding customer service always stays the same.
Photo courtesy of bclinesmith. Available under the Creative Commons Attribution 2.0 License.