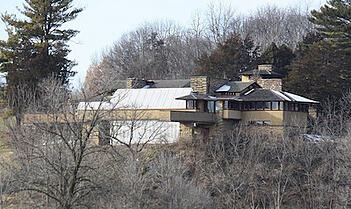 How's this for a Hollywood plot?
In the early 1900s, a world-famous American architect has a scandalous, headline-grabbing affair. He's in love with his mistress and wants a life with her, but his wife won't grant him a divorce. So he moves to another state, where he builds a house for himself, his new love (who's also still married), and her two children.
Not long after moving into the home, while he's traveling on business, a crazed servant killed the woman, her children, and four other employees. Then the servant sets fire to the house, which almost completely burned. The architect is devastated.
It sure sounds like something right out of the movies to me.
But what I'm describing really happened—right here in Wisconsin. The famous architect was Frank Lloyd Wright, the Wisconsin-born genius whom many consider the greatest architect of all time. The house that burned, which Wright named "Taliesin," was located just south of Spring Green.
The "movie" doesn't stop in 1914, with the burning of that house. A few years later, Wright built again in the same spot. Then, in 1925, "Taliesin II" also burned!
This time, no crimes were involved—the fire was possibly caused by an electric surge during a lightning storm. Still, that's pretty dramatic; a director could have a lot of fun with that scene.
Wright didn't give up. He loved the location too much. In 1928, he began building Taliesin III, which still stands. Now open to the public, it's a perfect example of Wright's innovative modernist style.
Two things stand out to me about Wright's work, and both can be seen at Taliesin. One is that Wright focused on designing buildings that were in tune with nature. The other is that he designed buildings that fit the way people live and work.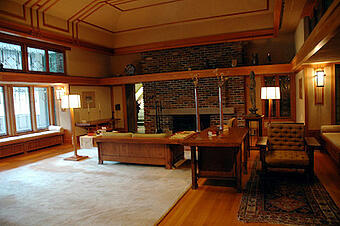 As someone who loves hardwood floors as much as I do, I also love this quote from Wright: "Wood is universally beautiful to man. It is the most intimate of all materials." I second that!
Based on that comment, I don't think it's a coincidence that the best things about Wright's designs are also characteristic of hardwood floors.
For example, like a house Wright designed, hardwood floors integrate wonderfully with natural surroundings. We often help homeowners select hardwood flooring that reflects and accentuates the natural beauty outside their home, whether it's on the water, in the mountains, or anywhere else.
Hardwood floors also fulfill Wright's goal of creating buildings that fit people's lifestyles. Because of the wide variety of hardwood species available for floors—each with differing hardness, texture, color, etc.—homeowners can easily choose the perfect species for how a particular floor will be used.
Earlier I said the story of Wright's life and the Taliesin tragedy sounds like a movie. I'm not the only one who thinks that—there is reportedly a major motion picture in the works. I can't wait—I know the story is going to be thrilling.
But I think I'm even more excited about seeing footage of Wright's work gorgeously displayed on the big screen. I'm sure there's going to be a lot of beautiful wood shots!
For the full story of the tragedy, here's a good account. You can also easily tour the Taliesin house.
Photo courtesy of Royal Broil, ngader. Available under the Creative Commons Attribution 2.0 License.