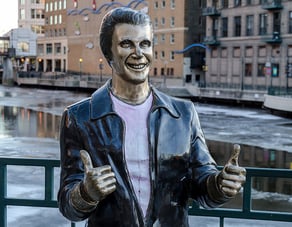 Other than being popular sitcoms about teenage friends growing up, what do Happy Days and That '70s Show have in common?
They're both set in Wisconsin.
Happy Days takes place in Milwaukee, and That '70s Show is located in a fictional suburb of Kenosha. As someone who was born and raised in Wisconsin and still calls it home, I think it's neat that our state was the setting for these two coming-of-age shows. Wisconsin was—and is—a great place to grow up, and both shows celebrate that.
But there's another similarity that I notice that's probably never crossed the mind of even the biggest fans of those programs: The floors in the homes where the kids live are covered in carpet!
Why would that catch my attention? You guessed it—because I would rather their flooring have been hardwood.
I have to give the creators of those shows credit, though. If they had put hardwood floors in the Cunningham and Foreman homes, the shows would have lost an element of realism.
Now, I realize that sitcoms aren't generally recognized for being realistic. But both shows did seem to try to accurately portray the social trends of the time in which they were set—the 1950s for Happy Days and of course the 1970s for That '70s Show. And carpeting was definitely a social trend during both decades.
It started in the 50s, in the boom years after World War II. Previously, carpet was woven on a loom, and its cost was out of reach of most homeowners. But with the introduction of relatively inexpensive, mass-produced tufted carpet (i.e., when manufacturers inject the carpet pile into a backing), the soft feel of carpet was suddenly an option for everyone.
After the austere War years, carpeting was seen as a fulfillment of the American Dream—luxurious plushness for all, wall to wall! From the 50s through the 70s, many new homes weren't built with hardwood floors, and a lot of existing hardwood floors were covered up.
I know from experience that the 70s were not happy days for hardwood floor companies. I was a kid, just getting started in the business, but I can remember how difficult it was for my parents to keep Ralph's going through that carpeting fad.
Thankfully, the popularity of carpeting waned in the later years of the 20th century, while people's eyes were reawakened to the timeless beauty of hardwood, as well as its durability and ease of maintenance. People soon realized, that unlike hardwood floors, carpet looks go out of style quickly (think the avocado carpets and deep shag of the 70s!). They also experienced the difficulty of cleaning carpet, as well as how soon it shows wear and tear.
Don't get me wrong. Wall-to-wall carpeting isn't going anywhere. Many hardwood floor lovers, for example, still chose to have carpet in their bedroom so their feet hit something soft when they get out of bed.
But when I happen to catch an episode of Happy Days or That '70s Show in syndication while flipping through channels, I see those carpeted homes and I cringe. They're a reminder of a time when the newness of mass-produced carpeting caused people to forget about how great hardwood floors are.
Carpeting will always be around, but the floors in those shows are clearly dated in a way that hardwood will never be. Hardwood, on the other hand, like the Fonz in Happy Days, will always be cool.